Basil Haden's is one of my go to Whiskeys. It is perfect for pretty much every occasion, whether that's to introduce a new whisky drinker into the fold or just have dram with dinner. It has the combination of being relatively cheap (in the bourbon world) and easy drinking. I've heard people claim that because its only 40% ABV that it is whiskey-lite or that it doesn't pack the punch of other whiskeys. I honestly think those people are crazy.
If you haven't tried Basil Haden's, I highly suggest getting a bottle, it is an excellent bourbon. If you don't believe me, look at my night last night.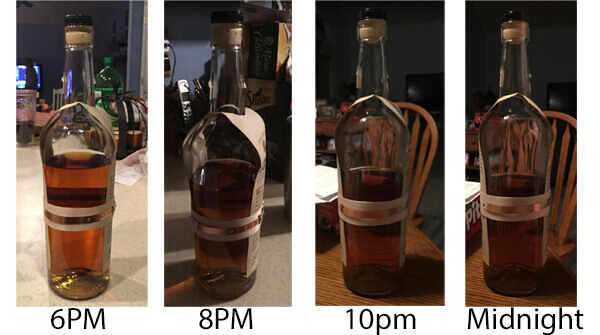 I did not mean to drink that much, and yes I did pay for it the next day, but we were playing board games and having a ball.
The Nose
The nose on this Basil Haden's is perfect for the new Whiskey Lover. It's balanced with vanilla and oak that also has a bit of citrus that gives it just a little zing. It's not layered or complex, which makes it perfect for new sippers trying to learn the ropes.
The Palate
The first thing that hits is a touch of tannin that quickly turns to vanilla and spice on the mid tongue that dances with those citrus notes. The finish is a wonderful blend of all those notes. There is subtle sweetness, vanilla, spice, and has a nice finish.
The Score
In terms of ranking, this is a solid 75/100. Don't let that score fool you, it is absolutely Sip Worthy. Of all the Bourbon's I drink, this is one of those bottles I always have on hand and absolutely keep a few bottles in my Whiskey Safe to carry me through in the event of a natural disaster.
Color
Dark Amber
Proof
40.0% ABV
Pros
Smooth
A bargain when you can find it for between $30 and $40.
Wonderful cinnamon, pepper and other spices on the tongue.
Makes an amazing Manhattan.
Cons
Not always in stock.
It gives me a horrible hangover when I don't realize I drank half the bottle at one go.