Da Andrea is located at 35 west 13th Street in Manhattan. They special in Italian Food and based on what one of my friends told me, the wine list is decent, but not huge. I'm not a wine drinker, so I'm trusting their opinion that the wine list was well constructed to match the price point of the food. The Whiskey Menu however, is not very big at all.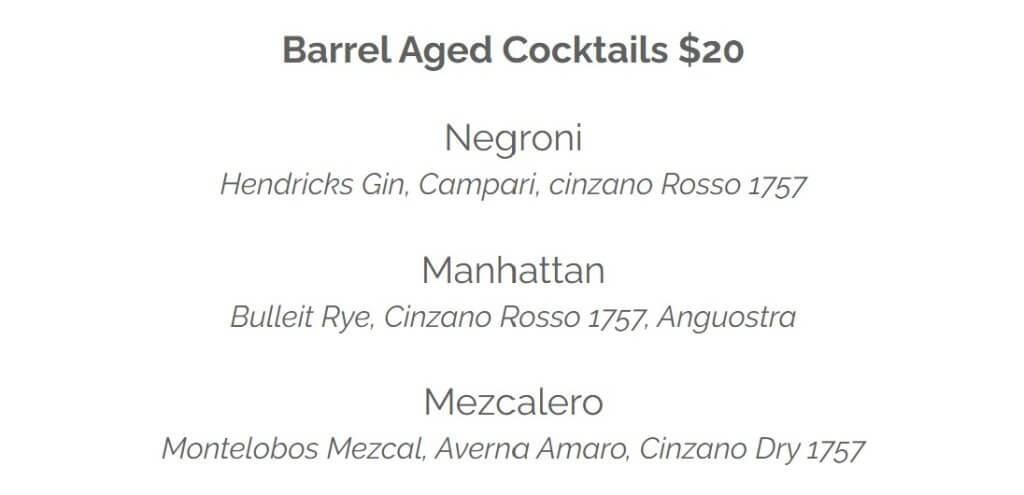 I had the Pappardelle (Pappardelle, sweet sausage ragout, truffle oil) and paired that with their Manhattan. The food was good, and for Manhattan I guess it was priced reasonably. What does that mean? For me a $26 dollar bowl of pasta better be amazing. It was good, but I think we were really paying for the fact that its a comfortable sit down restaurant in Manhattan.
How was the Manhattan?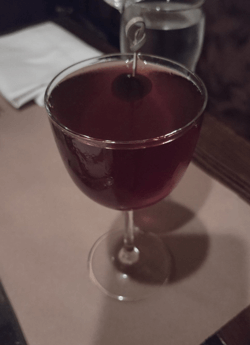 The Cinzano 1757 is the star of this Manhattan. It takes the Bulleit Rye and just adds so much depth and a wonderful finish to each sip. When it comes to ingredients, Cinzano 1757 is at the top of my list of bottles I need to add to my shelf. Is this Manhattan worth $20 bucks? Only if you are drinking it with friends in Manhattan.
Next I moved on to the Negroni. Since there only two whiskey drinks on the menu, I had to try both right?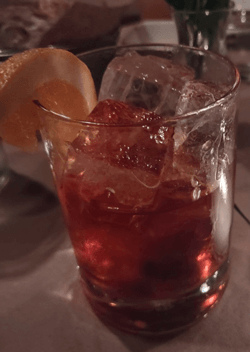 I'm not in love with the Negroni (as a drink) like I am with a Manhattan. I enjoy them now and then, but I am one those people people that find Campari to taste a little medicinal. It was good, but I went back to the Manhattan after the Negroni. Yes, I had a headache when I woke up the next morning.
Da Andrea is scoring a 50/100. Putting it dead center in the "If I had Limited Choices" category. I enjoyed the food and Manhattan was good, but Da Andrea has a very limited Whiskey Menu.
If you are in New York and are after a larger Whiskey Menu, try The Dead Rabbit instead.
Place
Location
Score
Price Scale
Drink
Cinder Bar
Clarksboro, NJ
96
High Cost
Manhattan
Saltgrass Steakhouse
Orlando, FL
91
Moderate Cost
Manhattan
The Irish Whisper
National Harbor, MD
90
High Cost
Irish Whiskey
McCormick & Schmick's Seafood & Steaks
National Harbor, MD
80
High Cost
Manhattan
The Dead Rabbit
New York, NY
75
High Cost
Multiple
Iron Hill Brewery
Wilmington, DE
71
High Cost
Kentucky Connection
Cadillac Ranch
National Harbor, MD
70
Moderate Cost
Multiple
Harry's Savoy Grill
Wilmington, DE
67
High Cost
Manhattan
Boulevardier
Ted's Montana Grill
Newark, DE
66
Moderate Cost
Newly Fashioned
Creekside Inn
Woodstown, NJ
65
Low to Moderate
Manhattan
Alewife
Richmond, VA
63
High Cost
Manhattan
roanoke
Chicago, IL
55
High Cost
Black Manhattan
Blue Line Lounge & Bar
Chicago, IL
53
Low Cost
Manhattan
Da Andrea
New York, NY
50
High Cost
Manhattan
Negroni
Iguana Cafe
Chicago, IL
45
Moderate Cost
Manhattan
The Greene Turtle
Newark, DE
40
Moderate Cost
Manhattan
Restaurante Montserrat Manor
Punta Cana, DR
35
High Cost
Manhattan
Dave & Buster's
Deptford, NJ
30
Moderate Cost
Manhattan
Cock'n Bull
Lahaska, PA
26
High Cost
Manhattan
Old Fashioned
The Brass Tap
National Harbor, MD
25
Moderate Cost
Manhattan
Carrol's Creek Cafe
Annapolis, MD
21
High Cost
Manhattan
Big Fish Grill
Wilmington, DE
10
High Cost
Manhattan
The Legend
New Castle, DE
5
Low Cost
Manhattan
TGI Fridays
New Castle, DE
1
Moderate Cost
Manhattan

Cost Scale
Up to $30 per person – Low Cost
$31 to $50 per person – Moderate Cost
$51 and above per person – High Cost