A friend at work mentioned this Fistful of Bourbon so when I saw it on the end cap at my local liquor store I figured I'd pick up a bottle and give it a try.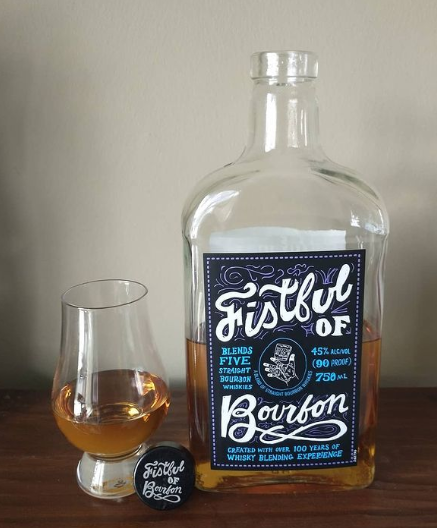 Fistful of Bourbon is a blend of whiskey combined from five different whiskeys. The marketing material brags about having 100 years of experience blending whiskey.
How did they do? Well, I have to be honest that I was a little worried when I first searched for the website and the very first thing I see is a page about cocktails.

Why is this the first page? Well, to be honest I don't think this is a whiskey the creators figured would be a sipper.
The Nose
I poured a dram into a Glencairn Whisky Glass and swirled it a bit to bring the nose up. That nose starts with alcohol burn that slowly reveals some charred wood underneath. It was strong enough that I was curious if I lost some nose hairs.
The Palate
The first sip is consistent with the nose. The initial taste is strong alcohol and jagged edges that slowly fades. It does open up with a little bit of water with does let you appreciate some of the more subtle flavors. There is wood char and spice there, but the alcohol burn just barely lets it poke through here and there.
The Score – Fistful Of Bourbon
For me this Fistful of Bourbon scores a 53/100, putting it firmly in Mixed Drinks Only territory.
Color
Light brown.
Proof
45.0% ABV | 90 Proof
Pros:
It should be cheap .
The bottle is very nice. I like the old fashioned squarish bottle. It reminds me of the bottles I found at my grandfathers house as a kid.
Cons:
The online price is nearly $15 bucks cheaper if I had looked there first. $40 bucks is just too much for this bottle.
Lots of alcohol burn and sharp edges. The alcohol overpowers any other flavors that might be hiding here.