I've had this Willett Pot Still Reserve Straight Bourbon Whiskey sitting on a shelf for a few weeks and finally decided it was time to crack it open.
I'm always nervous opening offerings with really distinct bottles. I'm afraid that the unique bottle is there to distract you from something else. Happily, at least with this Willet Post Still Reserve, that wasn't the case.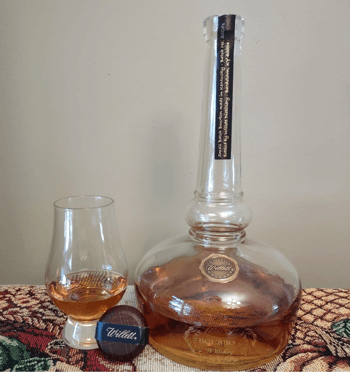 The Nose
The nose on this starts a little on the punchy side. Even without swirling the Glencairn Whiskey Glass at all the ethanol just flows out of the glass. That alcohol overpowers the more refined notes, at least until you open it up with a few drop of water. Those drops of water really let the brown sugar and vanilla shine though.
The Palate
This reminds me really heavily of Old Forester 1920 Prohibition Style Bourbon with its brown sugar that really sits on the mid tongue and then transitions to oak and char on the finish. Is it as good as the Old Forester? Not quite. It's good, but it doesn't finish as smoothly as the Old Forester in my opinion.
The Score – Willett Pot Still Reserve
I enjoyed this Willett Pot Still Reserve Straight Bourbon, but not enough to put it in my Whiskey Safe. That rougher finish cost it some points for me, although the price does seem reasonable for this level of whiskey. Willett Pot Still Reserve Straight Bourbon scored an 81/100.
Pros:
The brown sugar and vanilla is really enjoyable.
If you like a sweet middle and an oaky finish, you will love this.
Cons:
Some small rough edges on the finish.
Hard to hide the bottle if your sneaking new whiskey into the house as it is quite distinctive.