I have to be honest that I opened a bottle of Kavanagh when I had a guest over and totally forgot about reviewing it until I want to reference it against Kavanagh 16 Year Single Malt.
Why did the slip up happen. Well, it's not good news.
A buddy was over and I figured we'd try this Kavanagh together. I poured us each a dram, but I was the first to actually sip from it. It was so bad I had to take the glass away from my friend and pour him a glass of Bushmills 10 Year Single Malt instead.
Kavanagh is distilled by Kilbeggan Distilling, and I've read several reviews saying I should try the Kavanagh offerings. Which is one of the reasons I was surprised at how bad this Kavanagh Irish Whiskey tasted. If I'm brave enough I'll buy another bottle someday to see if I got a spoiled batch. Or maybe I'll wait until a buddy has a bottle and I'll just try a dram of his.
Why am I hesitating to buy another bottle of Kavanagh Single Malt Irish Whiskey? Well, it tasted something like Irish Whiskey mixed with turpentine.
It was sharp, chemically, and unpleasant. I'm giving Kavanagh Irish Whiskey a 3/100 as I took three small sips before I decided to pour it out. I will usually keep a bottle I don't like and see if any of my buddies want it. In this case I felt like that might cost me a friend so I just poured it out.
I'm hoping the Kavanagh 16 Year is significantly better.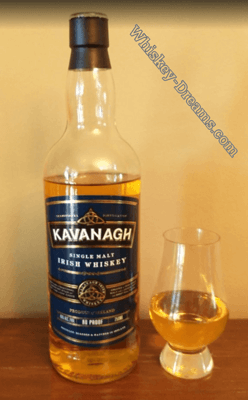 Color
Light amber & toffee.
Proof
40.0% ABV
Pros
It's relatively cheap at $25 as long as your not planning on drinking it.
Cons
Tastes like someone left chemical cleaning agents in the still to me.
Will likely result in you pouring the bottle out if your tastes are like mine.