Fighting 69th is a blended Irish Whiskey aged 3 years in bourbon, sherry, rum, and port casks. Apparently the Fighting 69th was named during the Civil war. There was an Irish Brigade, and the Fighting 69th unit was named by Robert E Lee, or at least that is what the history books say. Does that make me feel comfortable – nope, not at all. Racism, and that is what the civil war was about, is a stain on our history. Granted, the Fighting 69th continued to fight for our country long after the civil war.
Now onto the whiskey.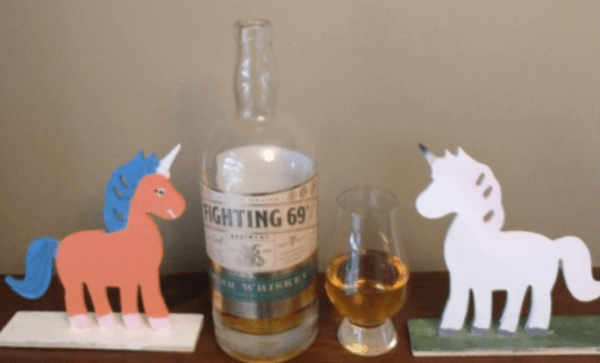 The Nose
The nose has sweetness, malt, with just a touch of ethanol hiding beneath those notes. It is not overly complex, but it is enjoyable.
The Palate
The mouth feel is clean and the first thing that hits me is the sweet butter cookies that hints at the time spent in the rum barrels. The mid tongue and finish are oak, char that transitions to dry fruity sherry as it finishes. For what I would describe as a budget bottle, this is an Irish Whiskey that punches way above its weight class.
The Score – Fighting 69th Irish Whiskey
Fighting 69th scored an 86/100 and made its way into my Whiskey Safe, as I am going to keep a bottle on hand for "Emergencies". Fighting 69th is an amazing value when you compare what you get to the price. It has hints at that lovely butter cookies of much more expensive bottles, and while it doesn't get close to competing with the big boys like Redbreast 12, this is just such an enjoyable, affordable bottle, it should be on every whisky lovers' shelf.
Color
Light Amber and Straw.
Proof
40.0% ABV
Pros:
At the $30 price point this is quality and value combined in a really nice package.
This is the first bottle of whiskey that any of my sons enjoyed enough to go buy a bottle.
Great nose and mouth feel that turns into a very nice sipper.
Cons:
It's named after a unit that was named fighting for slavery. It it just me or does that not bother anyone else? Granted, they continued to fight for our country long after that, but it does nag at me.