The bottom line on Buffalo Trace is that if you can get it at $24 to $26 the value to cost ratio makes it a nice sipping whiskey to share with friends or to take out into the woods – times when you want to enjoy a sip, but maybe don't want to spend a lot of money in the process.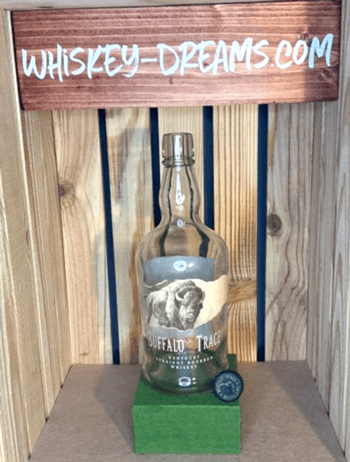 The nose on this Buffalo Trace is Rye and vanilla that swirls with spice. It's not overly complex, but it is nice.
The mouth feel is clean and starts, for just a heartbeat with sweet butterscotch and caramel that quickly gets overpowered by spice and burnt oak. The finish has a nice burnt sugar that hides in that burnt oak and caramel. None of those flavors are really strong, and some of them come and go, a little bit wispy. I kept taking small sips, trying to decide if I was imagining some of it, so let me know in the comments if you appreciate any of that or if I was just too far gone by the time I took my notes to be trusted.
Buffalo Trace earns a 55/100, and yes I did drink the whole bottle – but not at one shot. That 55/100 puts this in the "Mixers or On Ice" category, but at this price, its a great value. This is a simple. straight forward Kentucky Straight Bourbon that packs a great punch for its price. If you haven't tried it, I highly recommend going out and getting a bottle to enjoy.
Color
Deep Amber
Proof
45.0% ABV
Pros
Cheap.
Decent value for the price.
Aged for at least 8 years, a rare feat at this price.
Cons
Cheap.
Decent value for the price.
Whiskey snobs may not think this has enough depth once they've been exposed to other more refined bottles.
Not overly complex in nose or on the tongue.