This single malt Knappognue Castle 12 Year is finished in bourbon barrels. It was first produced in 1998, at the Cooley Distillery. In 2011, Beam Inc. purchased Cooley for $95,000,000, so someone walked away with just short of 100 million dollars. In my area, this Knappognue Castle 12 Year costs approximately $50, but prices vary every time I shop, so there could be big differences between my price and what you see at your local whiskey/bourbon reseller.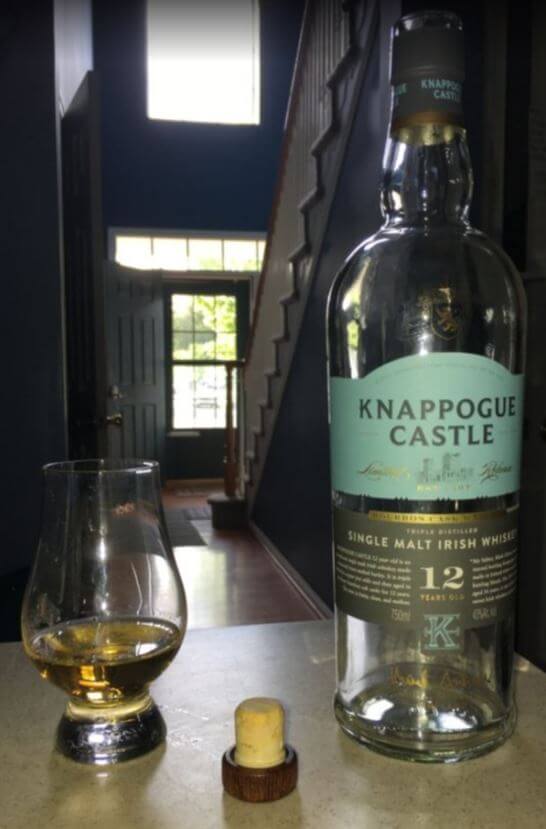 The Nose
The nose is pleasantly filled with sweet vanilla and butter cookies. I really enjoyed swirling this whiskey in a Glencairn Glass and just breathing in its lovely scent.
The Palate
The palate is sweet vanilla and spice that ends with a bit of pepper from the time the whiskey spent in the bourbon barrels.
The Score – Knappognue Castle Irish Whiskey 12 Year
I can't help but compare this to Tyrconnel's Single Malt. Tyrconnel doesn't have an age statement, but they are within $5 of each other, and I honestly found the Tyrconnel and this Knappognue Castle 12 Years to be quite similar. I think I need to buy another bottle of each and do a blind tasting, because my memory is blurring the two together. Which means that this and Tyrconnel's Single Malt are tied with an 87/100.
I may go back and update both the Tyrconnel's Single Malt and this score, because I think a head to head is worth it for a tie breaker in the future.
Color
Light golden rays of sunshine.
Proof
40.0% ABV | 80 Proof
Pros:
Intoxicating vanilla and spice.
I love the buttery cookies this brings out on the tongue.
Cons:
The time spent in the bourbon barrels seems to have left a bit of pepper on the aftertaste that takes away from the rest of the experience.