I picked up this mini bottle of On The Rocks Knob Creek Old Fashioned pretty much on a whim. They had a rack of them by the check out and I'd never seen them before. It said Bourbon, so I grabbed a bottle.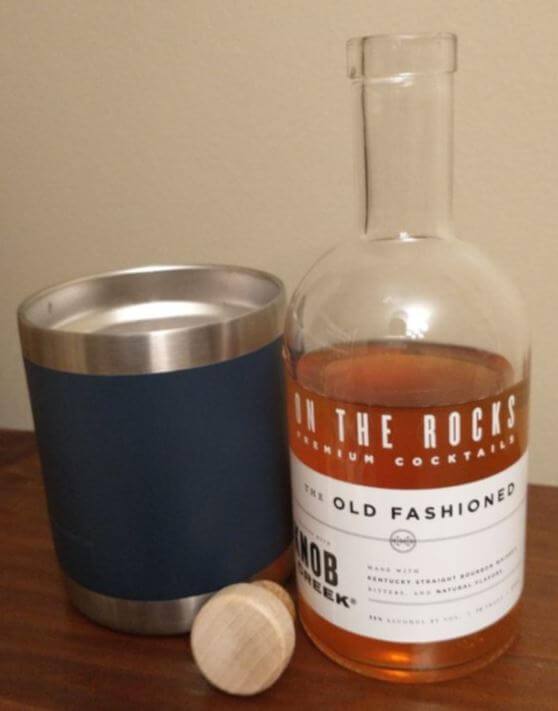 I'm not a huge fan of Knob Creek Bourbon's to be honest with you. When I reviewed Knob Creek Small Batch it scored a 49/100 but I'm happy to say this makes a much better mixed drink.
I poured some ice into my Yeti Lowball Rambler and pre chilled the cup before dumping it out. I then filled it about an inch of the way up and held the cup to nose.
This premade Old Fashioned has a sweet fruity nose. That burnt sugar and char I didn't like so much in the base bourbon mixes well as an Old Fashioned. It likely also benefits from being diluted down to 35% ABV, compared to 50% for the Small Batch.
The palate is a pleasant woody char followed by sweet. If you like a sweet mixer, you will love this On The Rocks Knob Creek Old Fashioned. If your like me, and can't have a lot of sugar, this mixer might not be the best choice for you.
I did enjoy sipping this Old Fashioned, but by the second tumbler I had a headache, which is what too much sugar does for me. I literally don't eat any sugar or carbs, so this my just be a "me" issue.
The Score – On The Rocks Knob Creek Old Fashioned
If it weren't for the headache, On The Rocks Knob Creek Old Fashioned, would have scored a 90 as a mixed drink, but for me the headache brought that score down to an 83/100.