Stillhouse Black Bourbon scored a 61/100 after I recently re-reviewed it with a good bit more Whiskey Dreams knowledge under my belt. So now that Stillhouse Black Bourbon is in Mixed Drink Only territory, how does it stand up as a Manhattan?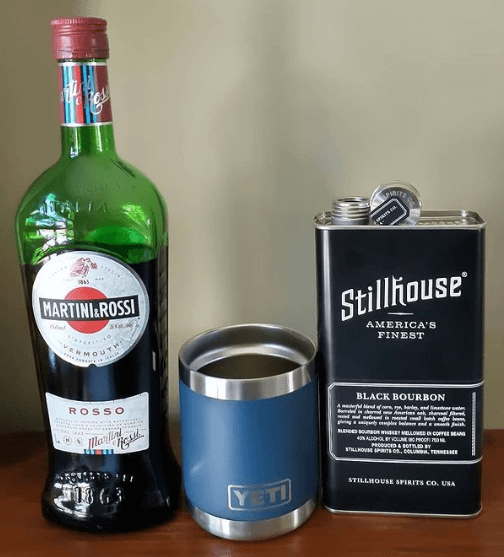 The nose on this Stillhouse Manhattan is all sweet fruity vermouth. Whatever nose the Stillhouse had is completely overwhelmed by the vermouth.
This Stillhouse Bourbon makes an odd Manhattan. At first I didn't like how the astringency mixed with the sweetness of the vermouth, and it leaves an odd lingering taste on my mid tongue, but the more I sipped it, the less it bothered me – but that was probably the alcohol. I really struggled with whether this was a 51, making it Sip Worthy, or if it was a 50, making it Just Bad.
Stillhouse Black Bourbon Manhattan Scoring
At the end of they day I'm going to settle on 50/100, putting it in the If I Had Limited Choices category. My main reason being that I'd rather drink this whiskey straight than make a Manhattan with it, even if its not perfect there either. I still like this Stillhouse Bourbon for camping though. It comes in a very sturdy metal "can" that is perfect for rough handling.