Monkey Shoulder is a blended Scotch created by blending three famous Speyside single malts. Monkey Shoulder is made by William Grant & Sons, who also makes Glenfiddich, The Balvenie, Sailor Jerry, Tullamore Dew, and Hendrick's Gin. It is an interesting mix of brands, and that variety of skills really shows through in this Monkey Shoulder.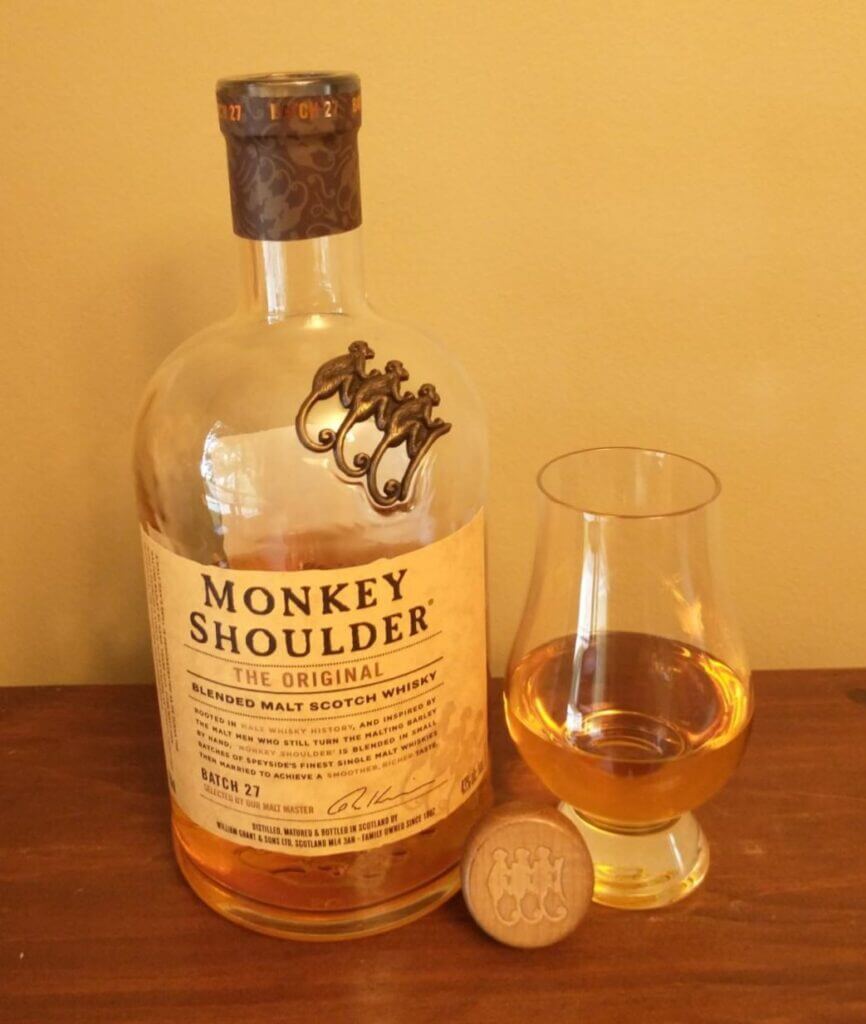 Those of you who are regular readers of Whiskey Dreams know that I'm not usually a huge fan of Scotch. I'm not a lover of the smoke as it were, so I tend to steer my selections towards Irish Whiskey and American Bourbon. So how did I get this bottle of Monkey Shoulder? I have to thank Steph!!! She was originally a girlfriend of one of our boys (still is) who became a family friend in the process. My wife and her went out for lunch last weekend and Steph grabbed this bottle of Monkey Shoulder as a present. It's amazing how life works out. I wouldn't have picked a Scotch off the shelf in all likelihood, and I would have been missing out if I hadn't tried this Monkey Shoulder.
The Nose
The nose has a nice wood char mixed with spice that transitions into vanilla and end on orange peels. It has a great nose that I could honestly sniff all day.
The Palate
The palate is smooth and easy to sip. The smoke is there, but its soft and blends well with the vanilla, orange zest, and just kind of trails off on the back of your throat as it finishes.
The Score – Monkey Shoulder
For me, this is the perfect Scotch. There is smoke, but its soft and not overpowering, making this Sip Worthy with a score of 79/100.
Color
Light golden yellow.
Proof
40.0% ABV | 80 Proof
Pros:
Amazingly affordable.
Great introduction to a smooth, mildly smoky Scotch.
Nice mix of wood smoke, spice, and orange zest that gently fades on the back of the tongue.
Accessible in both taste profile as well as in availability. A quick search shows the major liquor stores carry it.
Cons:
If you really don't like smoke, this does have a nice, mellow smoke that just kind of trails off gradually.