Smooth Ambler Contradiction is a blend of "a little of the delicious bourbon we source with the smooth and sweet wheated bourbon we distill here in West Virginia".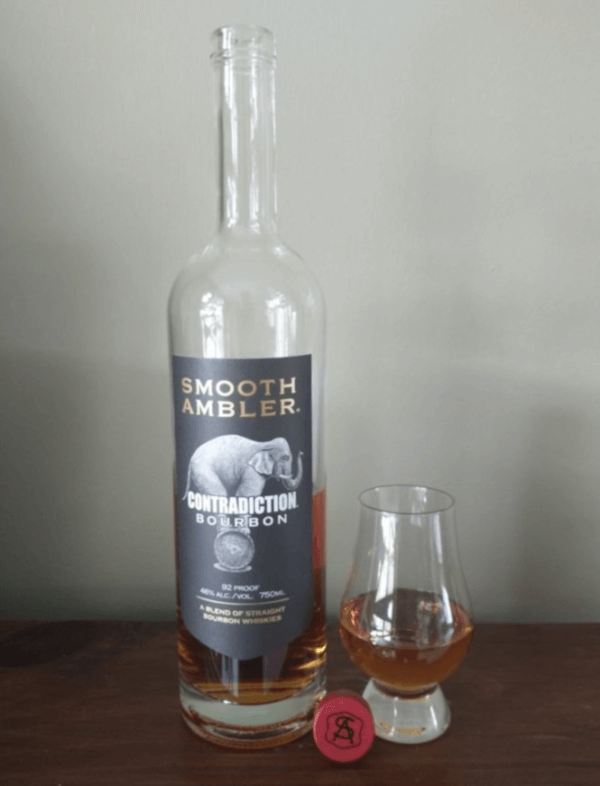 While Smooth Ambler Contradiction does not have an age statement, they do say that the majority of the blend is over 9 years old. The bottle says it is a blend of West Virginia, Tennessee, and Indiana whiskeys.

I really enjoyed the Smooth Ambler Old Scout I tried in July, 2020, so I was excited to cut the seal on this bottle of Contradiction.
My bottle batch is 362, bottled by Sarah. Let me know in the comments if we are bottle brothers:

The Nose
The nose on this Contradiction is nicely layered. It starts with oak that is always there, but as you breath in deeply it turns to wonderful vanilla with just hints of dried fruit.
The Palate
At 92 proof this has a bit more punch than "regular" 80 proof bourbon. Happily, that extra alcohol is so well constructed you don't really notice it. The mouth feel is clean and crisp and full of wonderful oakiness. I found that ice really opened up this whiskey and let me appreciate all the sweet vanilla just below that oak. Others have told me they also taste dried cherries in there, but to me it's just a more generic "fruit". It doesn't really matter though, this is just a pleasure to sip.
The Score – Smooth Ambler Contradiction Whiskey
Smooth Ambler Contradiction scored an 86/100, making it not only Sip Worthy, but also making its way into my Whiskey Safe, now I just have to find another bottle to put there.
Color
Dark sweet tea with strong earth tones.
Proof
50.0% ABV
Pros:
A great value at $40 a bottle. (Bought at the super store an hour away, but the super store prices make it worth a drive.)
Cons:
With an annual run of just 50,000 bottles to keep all us Whiskey Dreamers happy, can you find it?