Jameson is a big deal. in 2020 they sold 8+ million barrels of whiskey in 130 countries. How did they get there? With time and dedication to quality. The Jameson journey started in Dublin in 1780, and has grown ever since. Think about what goes into each sip of Jameson. When you lift that glass to your lips you are sipping more than 200 years of careful craftsmanship.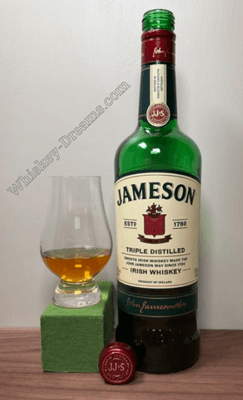 That effort and craftsmanship really shines through in this blended whiskey. It is an amazingly drinkable blend that is completely Sip Worthy.
When I was a kid I liked Jack and Coke. It wasn't until years later that I really got into whiskey and it was at one of my son's college party that I tried Jameson for the first time. My son and his (then) girlfriend picked up a bottle of Jameson to make Green Tea shots. It was not long before I was getting yelled at. They were scared I wasn't going to leave them enough to make mixed drinks with.
Personally, making a mixer with this seems like a sin. Even if the bottle does have a screw off cap. I am a whiskey snob at this point, and my neanderthal brain tells me that any whiskey that comes with a twist off cap can't be good. When it comes to Jameson, it is completely wrong.
When it comes the collection, even this "base" Jameson is a credit to the brand. Jameson scored a very Sip Worthy 75/100 and also makes its way into my Whiskey Safe. That means that if a natural disaster or the Apocalypse happens, I will have a bottle or two to get me through the rough patch.
Color
Light straw and honey.
Proof
40.0% ABV
Pros
Amazingly affordable.
Easily found anywhere and everywhere you go.
Blended whiskey that hints at single malt greatness.
Cons
It has a screw off top!!! (Yes, I know I'm a whiskey snob.)
It's so good it makes you question the quest of finding the next great whiskey. Is good enough good enough?