I honestly didn't find Bushmills without an age statement to be a very sippable dram. It scored a 62/100, putting it in the "Mixers or On Ice" category, so I was curious what 10 years in a barrel would do for it.
The good news is that the extra time aging smoothed out the rough edges. Some of those edges left a displeasing aftertaste. What surprised me about this Bushmills 10 Year is that while it is much smoother, that strange tannin driven aftertaste is still there. Whatever char they use in the barrel must be the driver. At least the 10 Year smooths it out and lets you appreciate the sweet butter cookies that hides just beneath that layer of woodiness.
I found that a little bit of water really opens up this Bushmills 10 Year and lets you appreciate the sweet fruitiness and butter cookies that gets overpowered by the tannins when you sip it right out of the bottle.
Oddly enough, I just bought another bottle because I didn't realize Bushmills rolled out a new bottle design in 2021. My very visual brain thought I was picking up something I hadn't tried before. You can tell I've been enjoying the 2nd bottle since I picked it up.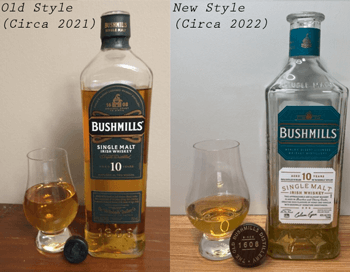 I do think the new bottle design is way more distinctive. Plus, the new cork is much nicer.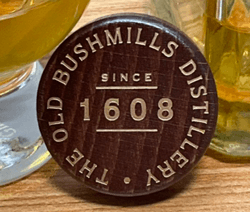 Overall, the Bushmills 10 Year is a huge improvement over the original Bushmills, which is why it is scoring 10 points higher. That gives Bushmills 10 Year Irish Whiskey a 72/100, making it Sip Worthy.
It was good, and I will drink it whenever I can pick up a bottle on sale, but unfortunately for Bushmills did not make it into my Whiskey Safe. That means I don't on keeping a few bottles on hand for if the power goes out permanently.
Color
Copper and amber.
Proof
40.0% ABV
Pros
Easy to find.
Soft sweet nose with hints of butter cookies.
Smoother edges when compared to the original Bushmills.
Cons
The things I love about Irish Whiskey are subtle. There are butter cookies, but they are under the malt and oak.
At this price point, around $50 I would go with Tyrconnell or Knappogue Castle.