Clyde May's Original Alabama Style Whiskey hails from, you guessed it, Kentucky, New York, and maybe Alabama? According to my research this whiskey is made in Kentucky and aged for five or six years.
Made with a bourbon mashbill of 55% corn, 30% rye and 15% barley, this is aged for five to six years in charred American oak barrels. Then the Conecuh Ridge Distillery, which is in Long Island, N.Y., will process the whiskey before it moves on to Troy Alabama for bottling?
At least that is the picture I'm piecing together from multiple other bits of data. If I've got any of that wrong, let me know in the comments and if I can verify I'll edit the above to be as accurate as possible.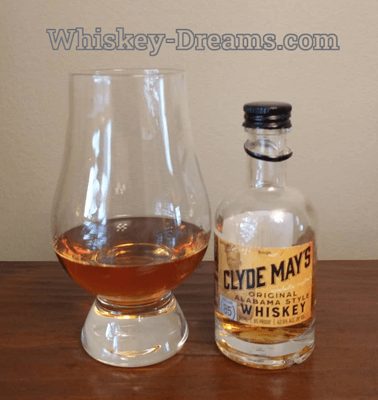 Now on to the whiskey.
First off, I really enjoy the nose on this Clyde May's Original Alabama Style Whiskey. It is sweet and fruity and awash in caramel that finishes with just a touch of wood and leather. It's not super complicated, but its simplicity really lets you appreciate what is there more.
The mouth feel is light. This is not a heavy or oily whiskey. The first two notes that hit me are that caramel and the wood char which finishes with a bit of fruitiness on the back of my tongue. Every now and then a bit of pepper creeps in, and I seem to be able to appreciate it more as I continue to sip.
Clyde May's Original Alabama Style Whiskey scored a 71/100 for being smooth, straight forward, and easily sippable. Now I have go get a full size bottle to keep on my shelf for those times I want to enjoy a nice dram at a reasonable price, or introduce a newbie into the fold.
Color
Light redwood stain.
Proof
46.0% ABV
Pros
Great introduction whiskey for newbies.
This whiskey is very true to itself. Its simple, straight forward, and everything just works. The nose is nice and gives you a good idea of what your going to be drinking. The palate is clean, smooth, sweet, and is an easier sipper.
At $35 this is a great value for a very sippable dram.
Cons
If you are new to whiskey, this might set a fishhook that is really had to pull out.
If your a whiskey aficionado with high brow tastes, this might not meet all your needs.