Chestnut Farms Straight Bourbon Whiskey is distilled by Barton 1792 Distillery and is 90 proof. It won a Double Gold Medal at the San Francisco Spirits Competition according to their website. What year? I couldn't find it, but that is probably due to my poor google skills. What I was able to find is that this bourbon doesn't have a website, and is made at the same Barton 1792 distillery where they make the Costco and Trader Joe's brand whiskeys. (According to the internet.)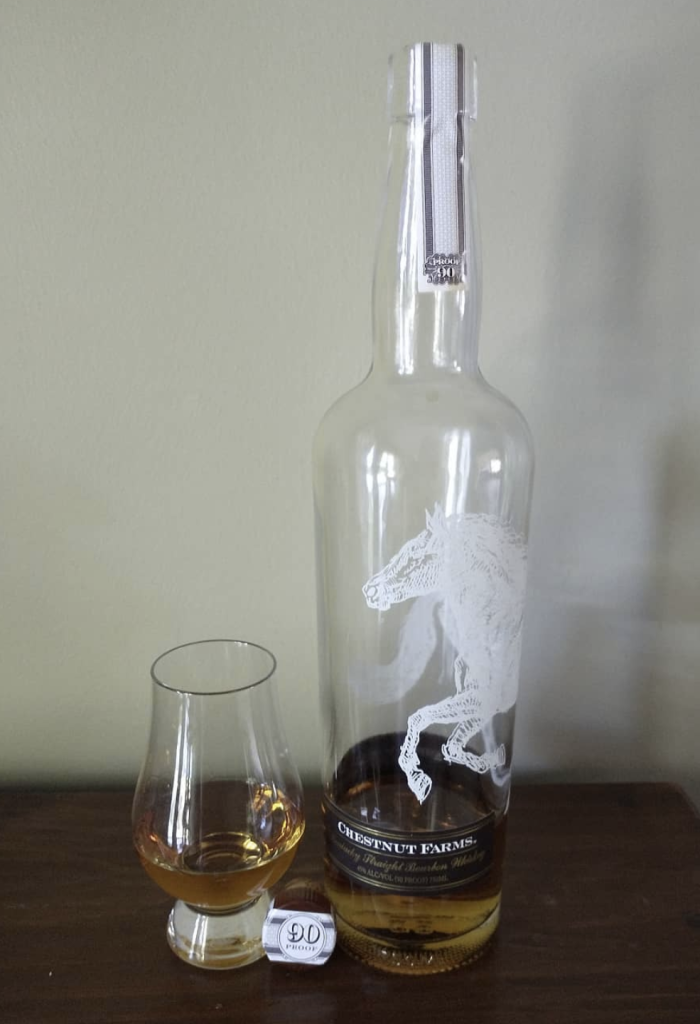 I've found awards are hit and miss for me. Some things that people rave over, tastes like gasoline to me, while some things that didn't even place, were things I'd buy another bottle of, so I didn't get my hopes up for this Chestnut Farms.
I'm not a huge fan of rye. For me it just creates a lot of sharp edges and an aftertaste I don't enjoy. Maybe that will change as I get older. I remember a time when I didn't like Brussel sprouts, but now I love them.
Why am I talking about rye? It's because this Chestnut Farms has some rye added onto its 51% corn and malted barley mash bill. That usually means I'm not going to like it, but in this case, they got the ratio just about perfect. All those rough edges I don't appreciate in rye whiskeys are smoothed out and come out as spicy warmth in my mouth.
The Nose
The nose is mild. There is a little caramel and toffee, but its not complex and overall it very light.
The Palate
The palate is a little different from the nose. It has that warm flush of a regular bourbon that quickly turns to oak char and then finishes with the spice from the rye. Overall it is a very well balanced whiskey and a great introduction to rye for those who aren't really rye lovers.
The Score – ChestNut Farms Bourbon
Chestnut Farms is Sip Worthy and scored a 77/100. It isn't making it into my Whiskey Safe, but it is a bottle I could see myself picking up when the mood strikes me again.
Color
Deep golden yellow.
Proof
45.0% ABV | 90 Proof
Pros:
Perfect balance of corn and rye.
Ends with a nice mix of rye spice and oak notes.
Cons:
If you don't like rye at all, you may not like this.
At a $45 price point, there are a lot of very competitive whiskeys to choose from.