I was a little disappointed in Fistful of Bourbon as a sipper. It scored a 53/100 when ranked against other sipping options. You can read the full review here.
What do I do with bourbon that isn't sip worthy? I make Manhattans of course.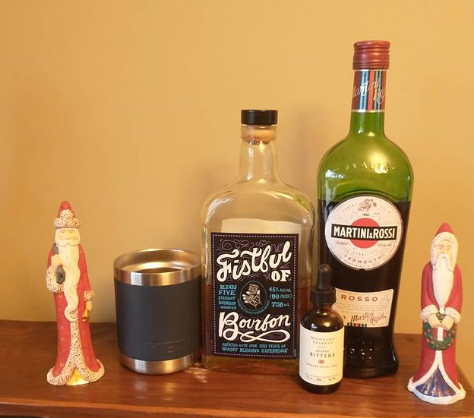 If you can find or buy this online at the $25 price point, this is a great bottle to make mixed drinks. The Vermouth and Orange Bitters takes this rough edged bourbon and turns it into a smooth, tasty, Manhattan. I used my regular two to one mix and used my trusted Lowball YETI Ramblers to keep the cocktail cold while I drank it. These insulated YETI Ramblers also save my tables as they don't sweat.
I feel like I got ripped off as I payed $40 bucks for my bottle of Fistful of Bourbon. At $25 this would be a great bottle for mixed drinks like a Manhattan.
The Score – Fistful of Bourbon Manhattan
A Fistful of Bourbon Manhattan scored an 80/100, and mixes into Sip Worthy Manhattan.
Pros
Makes a tasty Manhattan.
Benefits from the sweetness of the Vermouth.
Cons:
I would not pick up another bottle of Fistful of Bourbon unless I can find it at the $25 price point.