After hitting up Costco I had to go to BJ's to try their Wellsley Farms Irish Whiskey.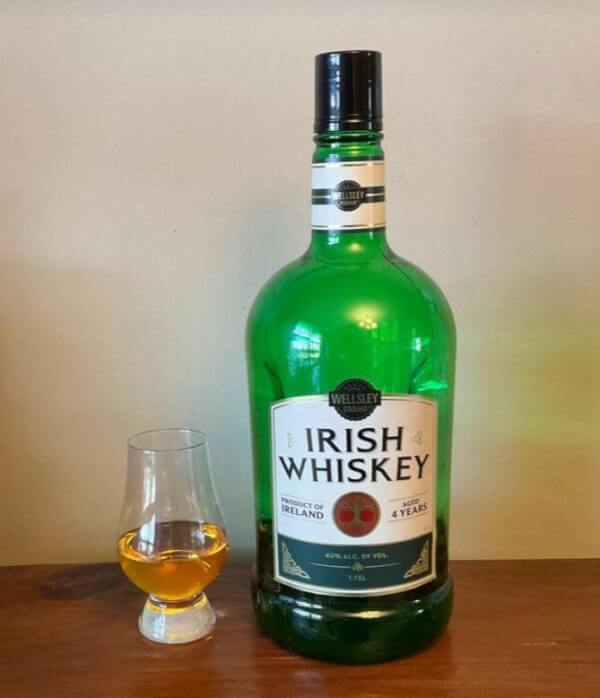 If you aren't familiar, the big box grocery stores basically have their own budget versions of different types of alcohol, including Irish Whiskey.
The Nose
I poured my normal dram into a Glencairn Whisky Glass and the alcohol was the first thing that my nose appreciated on this Irish Whiskey. Once I took several long breaths in I did appreciate a note of butter cookies and malt but it was really mild.
The Palate
There are pleasant but faint notes of butter cookies but the rough notes on the finish really cost this whiskey major points, along with the headache. I don't get a hangover from better quality Whiskey, so I know if I wake up with a faint headache the next day that I was probably drinking a lower quality offering, which is exactly how I would describe this bulk purchase.
The Score – Wellsley Farms Irish Whiskey
They are incredibly similar, maybe even identical, and I am giving Wellsley Farms Irish Whiskey the same score of 65/100. Save it for Mixed Drinks Only or parties where quantity is more important than quality.
At this price point I'd go for Paddy's Irish Whiskey. Sure, you don't get the same volume, but Paddy's quality more than makes up for it.
Color
Light brown.
Proof
40.0% ABV
Pros:
At just $28 there is a lot of whiskey per dollar here.
Aged 4 years.
Cons:
The rough edges make it less enjoyable to sip.
This definitely gave me that Cheap Whiskey Hangover.