We were driving by a CostCo and decided to hit their liquor store. Which you don't need a membership to shop at! It is apparently illegal to have private alcohol stores? We don't have a CostCo nearby so I had to grab this huge bottle of Kirkland Irish Whiskey to try out.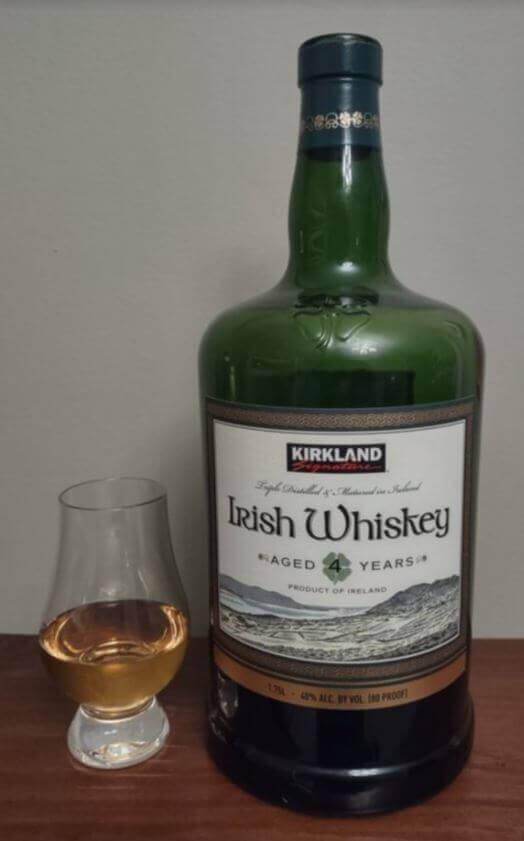 The Nose
The nose on this Kirkland offering is subtle. It hints at butter cookies but it is really hard to appreciate through the alcohol. Not super impressive so far.
The Palate
The mouth feel is clean, but has lots of sharp edges. Those sharp edges continue all the way to the finish with a stab of alcohol.
Of course I couldn't try this without comparing it to Jameson right?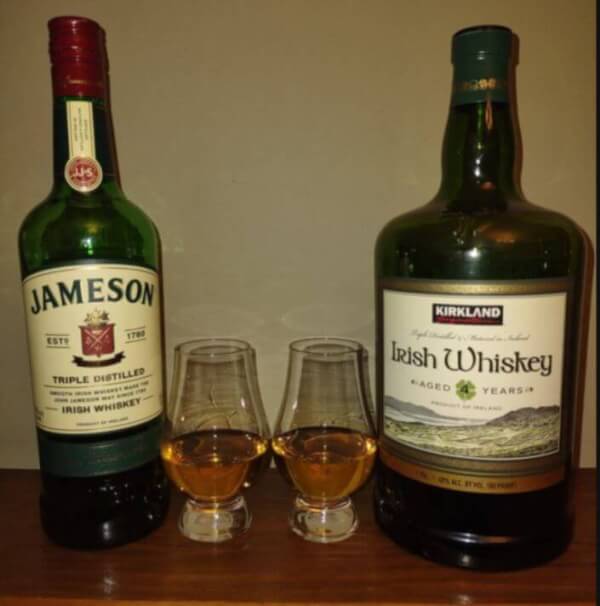 It is really hard to see in the pictures, but the Kirkland offering is just a tiny bit darker than the Jameson. Picking the Jameson by nose was very easy, it all comes down to the alcohol burn. Neither has a strong nose, but the Kirkland Irish Whisky really hits in with the alcohol in comparison. Even my wife, who does not like whiskey, could pick out the Kirkland Irish Whiskey. It is the one that smelled "stronger" of alcohol.
The mouth feels are very similar. The very first note on the tip of my tongue makes me wonder if the Kirkland Irish Whiskey might be sourced from Irish Distillers Ltd. Yes, the same company that owns Jameson. From what I can find on the public forums, it does appear these two are coming from the same source. For obvious reasons, CostCo wants to keep this a mystery.
A lot of other reviews comment on the sweet creaminess of the the Kirkland Branded Whiskey. I was really looking forward to enjoying that! Sadly, the only thing I could really appreciate was a bit of sweetness mixed in with those sharp edges.
For me, the flavor comparison is close. Kirkland Irish Whiskey has an age statement and is an excellent budget offering. I just think the Jameson is smoother and easier to sip. If you are going for volume per dollar though, the Kirkland option is the clear winner.
The Score – Kirkland Irish Whiskey
Jameson scored an 75/100, and while this Kirkland Irish Whiskey is a huge value, it is not as good. I'm scoring it a 65/100 putting it at the uppermost range of Mixed Drinks Only.
Color
Golden brown.
Proof
40.0% ABV
Pros:
Holy carp, this was only $18 bucks.
Very economical if you are making mixed drinks.
Aged 4 years.
Cons:
Very faint nose that is hard to get to because of how alcohol forward this whiskey is.
Rough edges on the finish.
Even though its twice as much volume for a few dollars less, I would still go with a bottle of regular old Jameson.