This bottle of Dublin Liberties Copper Alley Irish Whiskey was a birthday gift from my Dad, and I have thoroughly enjoyed sipping it. Dublin Liberties is a single malt that is aged for 10 years and finished in Oloroso Sherry casks.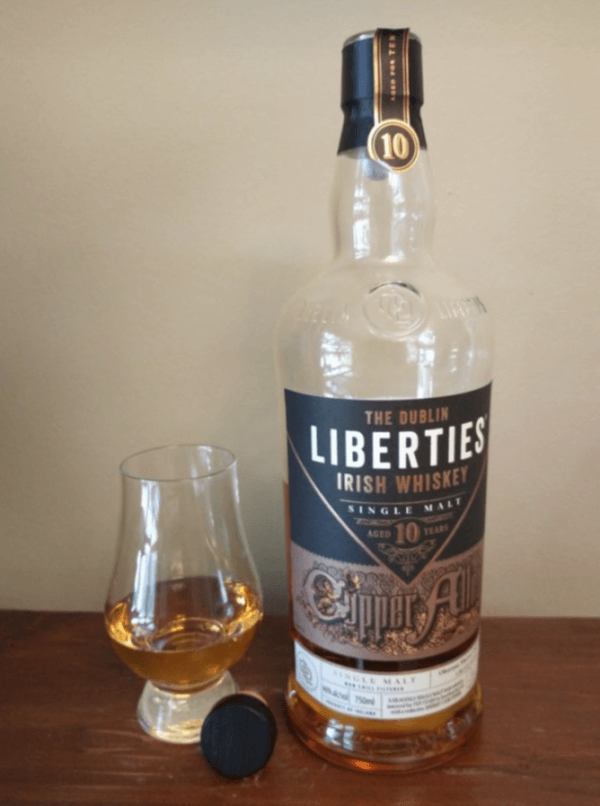 The Nose
The nose on this Dublin Liberties Copper Alley is a wonderful mix of malt and butter cookies. Having a Glencairn Whiskey Glass is a must to enjoy this nose! It is muted compared to Redbreast 12, but still lovely. The butter cookies have just a hint of sherry that is subtle but very enjoyable. This whiskey was made by a master at his craft.
The Palate
The sip is complex and swirling and starts with malt and butter cookies mixed with a pleasant nuttiness. The mid tongue immediately turns to cinnamon that quickly turns to pepper and sherry on the finish. After the swallow you will appreciate the dryness of that sherry.
Some of the other sherry finished whiskeys I've had overpower the whiskey, but this is just a masterfully crafted blend and all the tasting notes mesh together beautifully.
The Score – Dublin Liberties Copper Alley Irish Whiskey
Not surprisingly, this Dublin Liberties Copper Alley scored a well earned 90/10. Obviously, if you can find it, buy a bottle and let me know if you agree.
Color
Light Amber and Straw.
Proof
40.0% ABV
Pros:
Single malt and aged 10 year goodness.
Incredibly well created sherry finish.
It was a surprise bottle for my birthday, and it was an awesome present.
Cons:
Can you find it? I'd never seen it in a store and was psyched to get it as a present.
Because its around $75 bucks it can eat into your wallet if you pick up a taste for it.
Compared to Redbreast Lustau it is so hard to pick a favorite!