Is that a stock image in my review? Yes it is. I could not buy a bottle, even for the picture, after what it did to me. This was a long time ago, but I still got stomach pains just thinking about it. My wife took me to an outside fire pit gathering full of people I didn't know. One of the other guests brought a huge bottle of Fireball Cinnamon Whiskey and we started to take shots together.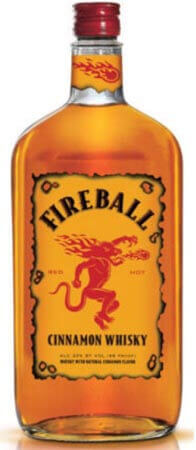 This isn't really part of the review, but it's a good story so I'll tell it. The guy pouring Fireball into me was a high school teacher and I remember asking my wife if he was gay. I don't care if he was, it was just I felt that he was hitting on me a little bit. He laughed at every joke I made and was following me around like a puppy. It was flattering, but my wife told me he wasn't, he was there with his wife. I remember telling my wife the guy was at least bisexual. Several years later the host of the party told me wife the dude got divorced and remarried a guy. Good for him.
Now back to the Fireball. It's not really whiskey. It is more accurately cinnamon flavored sugar water mixed with alcohol. There is a ton, and I mean a ton, of sugar in Fireball. How much? Look at your pour and now replace 25% of it with sugar.
With so much sugar, its not a surprise that it goes down like candy – because it pretty much is.
The problem is that with so much sugar on board, your able to drink it long past when your body should be telling you to back off, and that means its really easy to over indulge with Fireball. When that alcohol catches up to you it hits you like a hammer. The hangover is one of the worst I've ever had. Fireball isn't like other booze where you feel better after you puke, and it tastes so much worse coming up.
For me, Fireball is a 5/100, putting it at the bottom of the barrel of the Just Bad category. If you are going to drink whiskey, even cheap whiskey, there are much better options out there.
Color
Light to medium amber.
Proof
40.0% ABV
Pros
Cons
Is literally over 25% sugar.
Gave me a horrible hang over.
Tastes worse coming up.