Redbreast 12 Year is one of my all time favorite Whiskeys. After I discovered it I drank two bottles in three weeks with a little bit of help. I have unashamedly fallen in love with Redbreast so I was super excited to try the Redbreast Lustau Edition.
Let's first break down what it takes to make a bottle of Redbreast Lustau Edition. The whiskey itself is aged for between 9 to 12 years in a combination of Bourbon and Oloroso Sherry casks. The bottle doesn't carry an actual age statement but I'm going to trust the rumors and my taste buds on this one.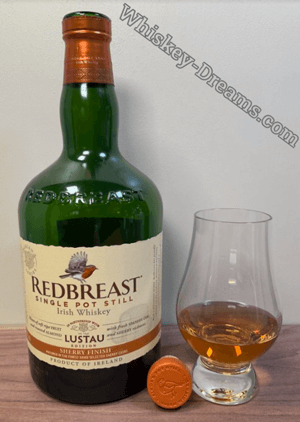 The Nose
Redbreast Lustau has the base attributes of Redbreast 12 on the nose but then adds in a bit more fruit. It's not overpowering, but there is a bit more honey and apple on the nose.
The Palate
The mouth feel is clean and crisp. The first touch on my tongue is malt and a touch of dryness that rapidly turns to honey and sweetness on the mid tongue. That sweetness changes to a delicious dryness that really highlights the time spent in the Bodegas Lustau Sherry Casks. There are times I just crave the way this bottle lingers on the finish.
The Score
There are times when I just crave a dram of this Redbreast Lustau. That opening malt and sweetness combined with the dry finish that lingers just the right amount of time earns this Redbreast Lustau a score of 92/100.
Color
Golden Amber
Proof
46.0% ABV
Pros
The nose hints at Redbreast's underlying richness while benefitting from the fruitiness from the Sherry.
Reminds me of Redbreast.
Obviously, it has Redbreast's deepness as it first washes over your tongue.
Cons
If you don't like Sherry you may not find this bottle to your taste.
The pricing is so strange. At some stores this is more than Redbreast 12, and at others its less. It drives me mad because when I'm craving it it seems like they want $100 bucks for this, but then I'll see it a week later for $55.