Howler Head is made from a Kentucky Straight Bourbon in North Charleston South Carolina which is infused with natural banana flavors.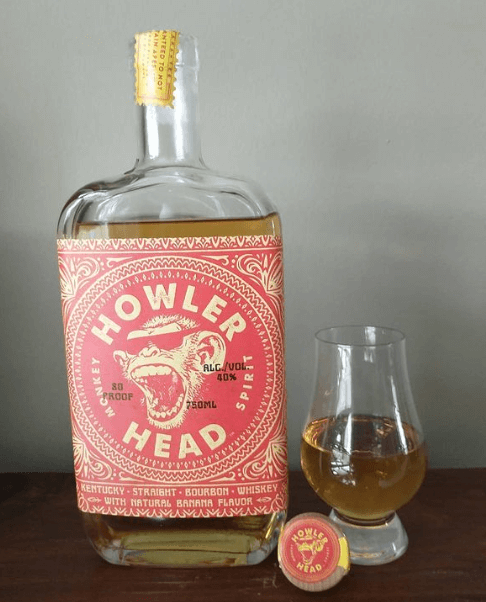 The Nose
The nose on this Howler Head is an interesting mix of banana and cough syrup. It reminds me of the banana flavored antibiotics that I gave my kids when they were little.
The Palate
The mouth feel is clean, very sweet, and exploding with banana flavors. I can't get the association out of my head, this tastes like someone ground up Banana Runts and infused it with alcohol. You can't really appreciate the alcohol, which worries me, because this level of sweetness and flavoring could easily lead to someone drinking more than they should. It is 40% ABV, but it doesn't taste like that. It tastes like candy.
The Score – Howler Head Whiskey
I don't want to be a snob, but this is more candy than whiskey for me. Sure, its like dessert, but its so heavily sweetened and flavored that after a single dram I just can't think about pouring another. I'm going to give this a 50/100, making it a Mixed Drinks Only whiskey – but there is so much flavoring, this is a mixed drink even without any other mixers added.
Color
Murky urine after not drinking enough fluids mixed with faint cloudiness.
Proof
40.0% ABV
Pros:
Very mild alcohol taste. The candy flavors hide all the alcohol.
If you like candy flavored whiskey, this will be right up your alley.
May be great if your trying to get a newbie to like whiskey.
Cons:
If you don't like candy flavored whiskey, you are not going to enjoy this.
Very sweet.
Tastes like dessert, which might be good, except after a single dram the sweetness and overly rich banana flavoring doesn't make me want to pour another glass.