This one is a mouthful.
Smooth Ambler Old Scout American Whiskey.
It's a long name, but a good one. This Smooth Ambler Old Scout American Whiskey is made in Greenbrier County, West Virginia, and is both complex, rich, and smooth.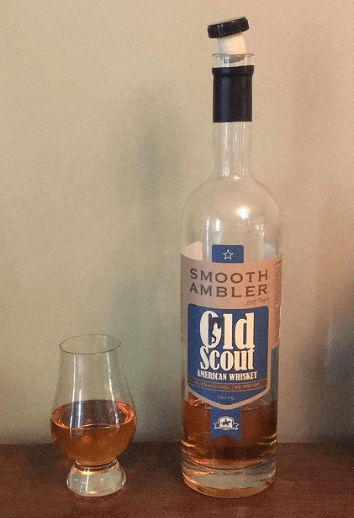 I'm actually a little confused as to what this Old Scout is. The bottle I have isn't on their website, which could be just a change to the bottle packaging, but the fact that they took the "Bourbon" label off my bottle makes me wonder if the mash bill dropped below 51% corn. I'm not sure if that is to make the whiskey taste as good as it does – or due to some other cost factor. The cost piece doesn't make sense though, as I'd guess that corn is fairly cheap?
The Score – Smooth Ambler Old Scout American Whiskey
In any case, this is an excellent sipper. It is 99 proof, but doesn't have any alcohol burn. This looks like a very small distillery, but its definitely an up and comer, and there is a ton of buzz about this brand.
Why?
Take the first sip. This is an amazingly earthy, rich dram that balances leather, earth, spice, and sweetness into something that is really impressive. Smooth Ambler Old Scout American Whiskey earned every point of its 84/100.
I've ordered a bottle to put in my Whiskey Safe so I always have a Bottle On Hand.
Pros
Subtly sweet.
Complex swirling flavors that mix earth, leather, cinnamon, and cherry pipe tobacco.
Amazingly smooth which is doubly impressive given its 99 proof statement.
Cons:
I liked it so much, and was worried they will run out that I bottle a bottle for my "Whiskey Safe". Which means I don't get to drink it until its really old, or I am.
You may not be able to get it as it is a small distillery.