Old Forester 1870 is one of my favorite bourbons. It sips easy and has a wonderful mouth feel that is complex, but extremely friendly. As far as I'm concerned, you can never go wrong with a bottle of Old Forester 1870.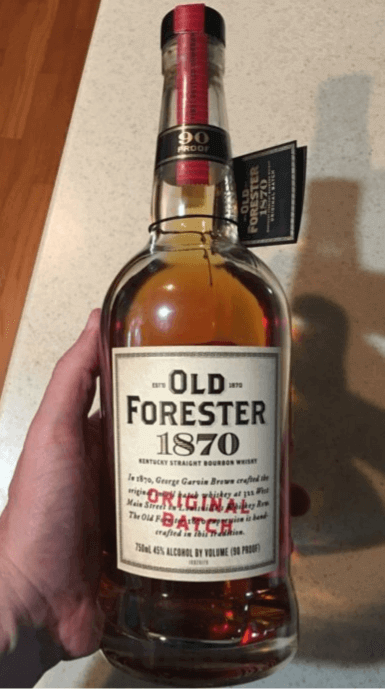 The Nose
After pouring a dram into a Glencairn Whisky Glass I swirled it and let a little of the heat of my hand warm the whiskey just a touch. There is a hint of floral notes that quickly turns to vanilla and caramel. Floating in the mix is a perfect amount of oak.
The Palate
One of the reasons I love Old Forester 1870 Bourbon so much is that the Nose and the Palate match so well. If you like the Nose you are going to love the Palate. The front of my tongue really appreciates those light but crisp floral notes. By the team the sip has hit my mid tongue it is all vanilla and caramel that smoothly transitions to a bit of oak char on the finish.
The Score – Old Forester 1870 Bourbon
Old Forester 1870 is an easy sipper. If you are new to bourbon put it over some ice to open it up. It softens the flavors and can open them up more for new bourbon lovers. Old Forester 1870 is very Sip Worthy and scores 80/100. It is also one of the bottles that started my Whiskey Safe. That means I have a bottle for when the apocalypse hits and I'm holed up in the mountains with nothing to do but drink good whiskey.
Color
Sunlit brown sugar.
Proof
45.0% ABV | 90 Proof
Pros:
Smooth start with floral notes.
Middle tones of caramel and oak.
Clean finish with cinnamon and spice.
Cons:
Isn't always in stock.
Prices vary from $40 to $65 depending on local demand.