I've had this bottle of The Dubliner 10 Year in the back corner of my Whiskey Shelf for a few months but it finally cycled to the top of the list, and I am very happy it did.
The Dubliner is a Single Malt, traditional copper pot still Irish Whiskey that is aged in Bourbon Casks for 10 Years. I am super excited to try this Single Malt after thoroughly enjoying its blended brother The Dubliner.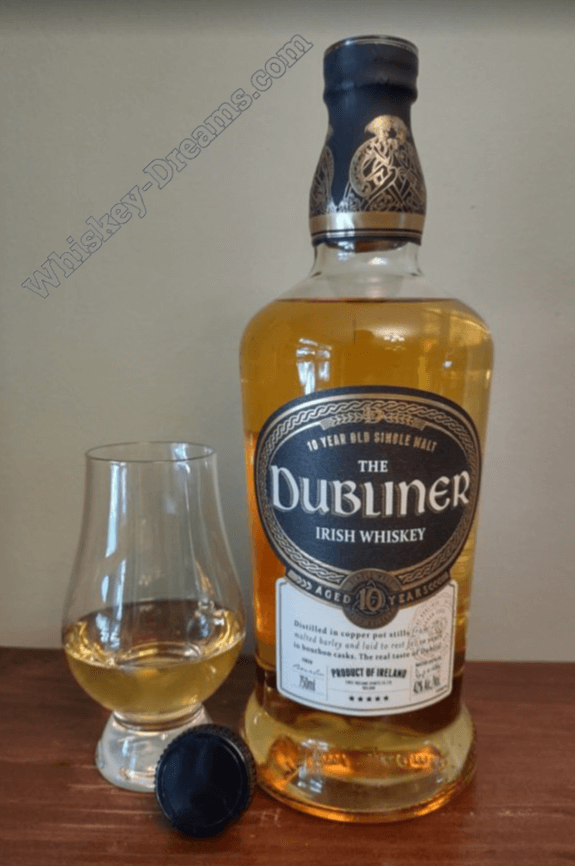 The Nose
The nose on this 10 Year Old Irish Whiskey is a treat. It is full of malt, vanilla, and honey that has notes of fruit and spice all around its edges. It is lovely, complex, and swirling.
The Palate
The mouth feel is clean and crisp. This is a very Sip Worthy, smooth whiskey. When I reviewed The Dubliner blended version I was impressed. That version scored an 80/100 at a very affordable price point of around $30 bucks.. The Dubliner 10 Year takes the goodness from the blended version and adds several layers of lovely complexity. The front of the tongue sings with honey and malt that rapidly turns to woody vanilla on the mid tongue that just as quickly turns to dark fruits and dry oak that comes from all those years in the Bourbon Casks.
The Score – The Dubliner Irish Whiskey
The Dubliner Single Malt earned every point of its 89/100 points.
Color
Light and rich amber.
Proof
42.0% ABV
Pros:
Lovely, swirling, complex nose.
Deep, clean, rich flavors that highlight the time spend in those Bourbon Casks.
Cons:
I haven't seen another bottle in my local stores, and now I have to add it to my "must buy" if I see it list.
New Irish Whiskey drinkers will really enjoy this, but maybe start them on the blended The Dubliner version and build up to this more matured version.
I know prices vary widely from state to state, and even from store to store, but if this comes close to a bottle of Redbreast 12, well, I have to go with the Redbreast 12.