Wild Turkey Bourbon is a staple at most bars. I actually challenge you to go into any bar that you can wear jeans into and find one that sells bourbon where this isn't on the shelf. As a young man, I remember when a single bottle of Wild Turkey was enough to keep four of five of us good for a night. Those were the days.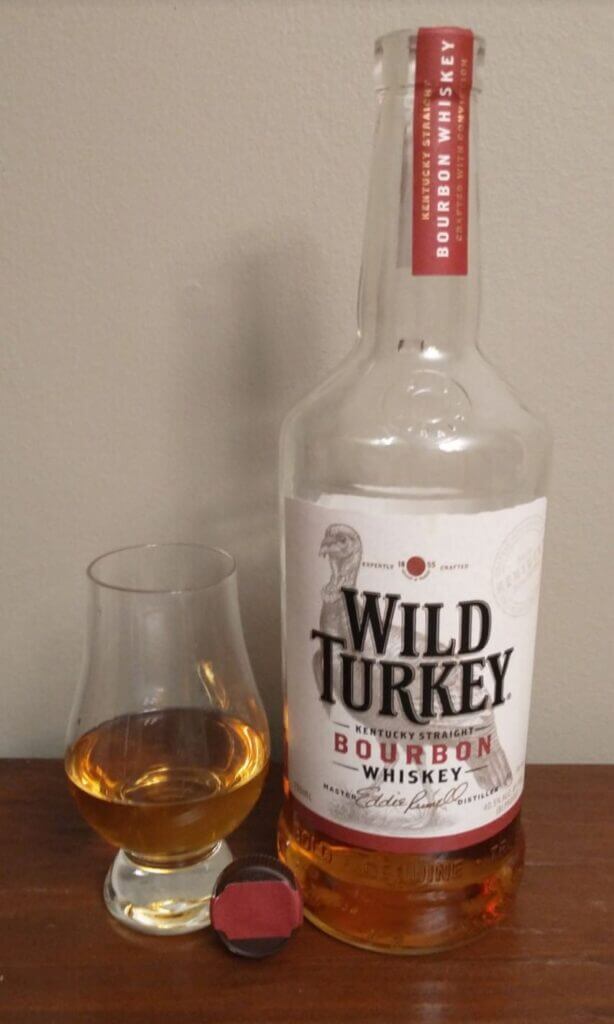 Wild Turkey has a long history, and has been in production for over sixty years. The interesting part, is that it was started in New York in 1940 and wasn't bought by a company in Kentucky until 1972.
The Nose
The nose on this Wild Turkey is flat to me. I can smell the wood char and a hint of sweet, but its very basic.
The Palate
The palate opens with burnt marshmallow that continues through the finish with a mix of char and burnt sugar. The flavor reminds me of Hudson's Baby Bourbon. Its much milder than Hudson's Baby Bourbon, but its there, that burn marshmallow that ends in a hint of leather.
The Score – Wild Turkey Bourbon
The good news is that this Wild Turkey is a lot milder than Hudson's Baby Bourbon. While I can drink Wild Turkey straight if I have to, for me this is really a bottle that should be saved for Mixed Drinks Only, scoring a 63/100.
Color
Amber and yellow. A little blood in the pee?
Proof
40.0% ABV | 80 Proof
Pros:
Cheap.
Easy to find.
Affordable way to make lots of mixed drinks.
If there aren't other options, this can be sipped, which makes it a good backup that is easy to find.
Cons:
If you don't like toasted marshmallows, this may not be for you.
Very simple taste profile.