How long have I had this bottle of Old Forester 1920 Prohibition Style Bourbon? It's been hiding on the back of my "to be reviewed" shelf for almost two years. Since then I've been trying to alternate between an American Whiskey/Bourbon and Irish Whiskey/Scotch every week. Old Forester in general is one of my go to bourbons. I'm not sure how I left this unopened for so long!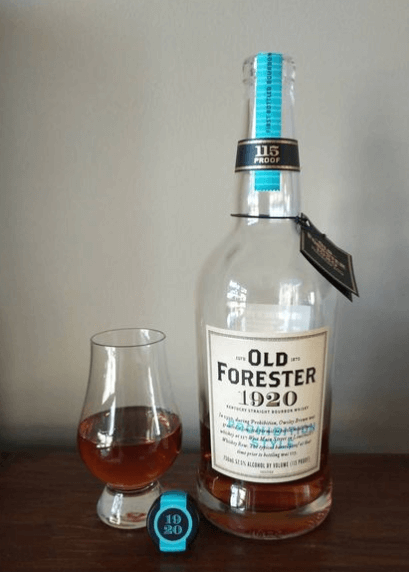 Old Forester 1920 Prohibition Style Bourbon is a strong offering. It is bottled at 115 Proof and a mashbill of 72% Corn, 18% Rye, and 10% Malted Barley. Based on the distiller's lore, this bourbon was created during America's experiment with making alcohol illegal . Or at least mostly illegal. Apparently there was a medicinal use exception, and Brown-Forman applied and was granted for Kentucky Permit KY – 3. This allowed Brown-Forman to create Old Forester 1920 Prohibition Style Bourbon and legally sell it for "medicinal" use, even during prohibition.
The Old Forester brand has the distinction of being the only bourbon sold before, during, and thankfully, after, prohibition. There is a lot of history in every sip of Old Forester, which is likely one of the reasons it never disappoints.
The Nose
The nose on this Old Forester 1920 is rich, deep, and layered with fruit and concentrated brown sugar just on the verge of burning. The nose ends with a swirl of alcohol and sweet fruit that is really surprising for how balanced it is. I was expecting a strong alcohol burn based on the proof, but this is such a well crafted whiskey that it all just fits together perfectly.
The Palate
The first sip was an explosion of flavor. Sweet brown sugar mellowed over oak char and black chocolate. That sweetness continues and melds with ripe fruit on the swallow that does hint at the 115 proof, but in a good way. Yes, you can appreciate this is a higher proof, but it is just so well made that it never smacks you in the face.
The Score – Old Forester 1920
While this Old Forester 1920 Prohibition Style Bourbon isn't something I'd pour for a new whiskey lover, for the advanced class who can appreciate all its complexity, this is just a pleasure to sip. It not only scores a 96/100, tying it for top honors with Red Breast, but it of course made it into my Whiskey Safe, meaning I will always keep a bottle locked up to enjoy during the Apocalypse.
Color
Deep amber and brown.
Proof
57.5% ABV
Pros:
Awesome back story that dates to prohibition.
Complex, multi layered nose.
Lovely sweet brown sugar and fruit on the front of tongue.
Cons:
At local prices (east coast) ranging from $59.99 to $69.99 this can take a bite out of your whiskey budget.
Easy to over enjoy, and at 115 proof it might catch up to you.
Not for the new whiskey lover. Save it for when you are more experienced.