I have to be honest with you when I tell you that I bought this bottle of Fighting Cock Bourbon as a joke. One of my older boys was turning 25 and I thought this would be a funny gift – which he then left at my house when he departed.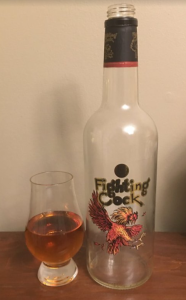 This bottle of Fighting Cock has sat in a dark corner of my whiskey shelf for a few months since then, at least until I tweaked my back a little. That means I've only been driving or going out for critical activities. Sadly, buying booze is not a critical activity.
This Fighting Cock is tops if your budget is under $20 bucks. It is rough, and has strong flavors, but if you are on a budget, this is a great choice. Don't let the overall score of 58/100 and the fact that this is technically in the Mixed Drinks Only category fool you. As a budget option, this was pretty good.
Pros
So very affordable.
If you like a spicy whiskey and don't mind a few rough edges this is a great buy.
Your mom will tell you she doesn't like the whiskey's name.
Cons:
So very affordable. This could be bad if you have a problem with self control.
It has a plastic, screw off cap. I know, I'm a whiskey snob, but what I am supposed to do when I collect whiskey corks?
I'm embarrassed to say I like drinking "Fighting Cock"