Egan's Fortitude Irish Whiskey is aged exclusively in Pedro Ximénez casks. Pedro Ximénez sherry is well known for being a syrupy sweet, yet dry, and those flavor profiles are really prevalent in this whiskey. Egan's Fortitude Irish Whiskey carries no age statement, so it is likely bottled at the bare minimum of 3 years which is required to be called Irish Whiskey.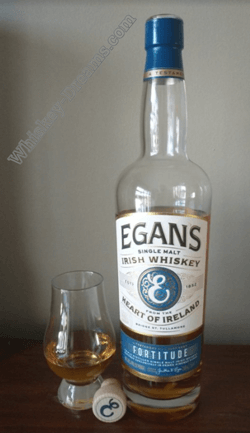 The nose on this Irish Whiskey is a gem. I could sniff this for desert, that's how sweet and fruity it is.
Sadly, that sweet, fruity nose is overpowered by the dry sherry notes from the Pedro Ximénez sherry casks. I like the dryness the sherry adds on the front of my tongue, but the finish is almost sour for me.
My son saw me take the first sip of this and said my face scrunched up. I may have said it finishes like "cat pee".
He asked me how I knew what cat pee tasted like. I changed the subject.
Something about Egan's Fortitude Irish Whiskey just doesn't agree with me. I tried it over some ice to see if that would help but it just made it cold and distasteful for me.
Overall I'm more likely to pour a dram of this and just enjoy the nose. The flavors from the sherry really wash away what I enjoy in a single malt, so needless to say, Egan's Fortitude Irish Whiskey isn't making it into my Whiskey Safe, and is scoring a Just Bad 26/100. Yes, it is at the higher end of Just Bad, but that is because the nose is just so nice.
Color
Light Amber
Proof
40.0% ABV
Pros
Amazing nose.
If you like sherry and Irish Whiskey you will love Egan's Fortitude.
Cons
The raisins, figs and dates from the sherry casks overpowers the flavors of the Single Malt.
The dryness of the sherry does something funky on my tongue. It almost turns the finish of this whiskey sour for me.