Uncle Nearest 1856 has created a lot of stir over the last two years by winning multiple awards and having an ever growing number of sippers recommend it to their fellows, which is exactly how I ended up with a bottle in my hands. Several friends had mentioned Uncle nearest 1856 to me, but up until this week I'd never seen a bottle on a shelf, so when I did, I grabbed it, even though I was really looking for Brut for my wife to make mimosas on Kmiss morn.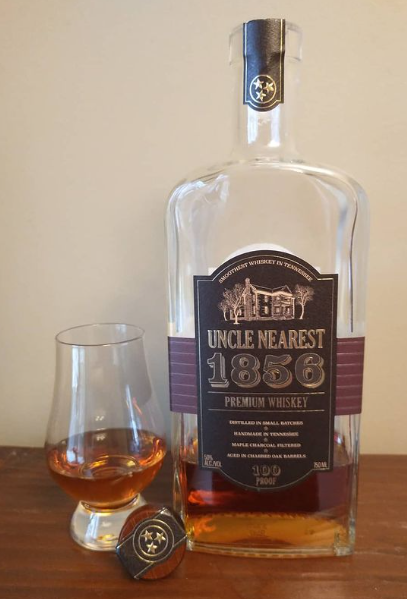 Uncle Nearest 1856 is a blended Tennessee Whiskey with some big shoes to fill. According to their website:
Uncle Nearest is the most awarded new American premium whiskey brand in United States history, garnering 75 awards since its July 2017 debut, including being one of two brands named "World's Best" at Whisky Magazine's 2019 World Whiskies Awards, and earning 15 Best in Class. Cigar & Spirits Magazine also named Uncle Nearest one of the "Top 5 Whiskies in the World."
Did it live up to the hype?
The Nose
Let's start with the nose. The first thing you will get when you put this Uncle Nearest 1856 to your nose is alcohol burn. You can really smell that 100 Proof, but the good news is that just beneath that is a swirling, complex nose that fills your olfactory nerves with sweet brown sugar, nutmeg, caramel, maple, and a hint of cut grass.
The Palate
Just like the nose, you do get a rush of alcohol on the tongue on that first sip, but it quickly gets balanced by that brown sugar, caramel, and wood char, that is all perfectly balanced. This is a very smooth sipper. The mouth feel is light and yet complex, with the wood char mixing with the sweetness that switches between Maple and Brown sugar in a very delightful way before ending coasting to a long, smooth finish.
The Score – Uncle Nearest 1856
Uncle Nearest 1856 scored an 84/100, putting it ahead of most of its piers by a large measure. What cost it a few points? For me, that 100 Proof does balance out, but it may be too much for newcomers to the whiskey world, and while it is very smooth, the maple and brown sugar may be too sweet if you're a Scotch lover.
Color
Dark brown with hints of golden light flashing through.
Proof
50.0% ABV | 100 Proof
Pros:
Wonderful nose that mixes maple, caramel, and nutmeg.
Perfectly blended char, maple, brown sugar, and nutmeg on the tongue.
Long, smooth finish on the palate.
Extremely smooth.
Uncle Nearest 1856 made it into my Whiskey Safe!
Cons:
That 100 proof can create a little burn on first touch.
That 100 proof can also hurt you the day after. It is very smooth and goes down easy, and that might leave you with a headache the next day, as it makes it easy to over indulge.
This may be for moderate to advanced sippers. It might just be "too much" for the new whiskey drinker.
Hard to find, at least by me.