The Basil Hayden's Manhattan is my go to standard. If you are looking for a great Manhattan recipe you can't go wrong with any of these.
The base is Basil Hayden's Kentucky Straight Bourbon, mixed with sweet vermouth, Dom Benedictine, and garnished with a Bada Bing Cherry or two.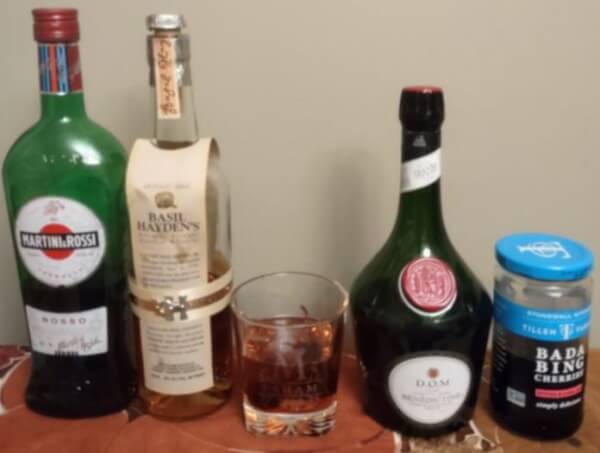 Manhattan Recipe
This recipe uses the standard two parts bourbon to one part sweet red wine/liquor. I like to split the sweet and use 1/2 ounce of Vermouth and 1/2 ounce of D.O.M. Benedictine. It makes for a Manhattan that has a sweet finish. If you like cherries, put a teaspoon or two of the cherry juice in your shaker before you mix.
2 ounces Basil Hayden's
1/2 ounce Sweet Vermouth
1/2 ounce Dom Benedictine
Basil Hayden's Manhattan Scoring
This combo results in just the perfect level of sweetness that blends and swirls with Basil Hayden's woody, spicy, and oaky notes. This bourbon has just the right mix of flavors to blend perfectly into a Manhattan. Sure, there are more expensive bottles of bourbon out there, but more expensive doesn't mean better.
This Manhattan scores a 95/100, putting it at the very top of the Manhattan scale.