When it comes to price point, Bushmills is on that very affordable area with Jameson. Neither have an age statement but Bushmills is aged for at least 5 years. Jameson is aged for at least 4 years. These two whiskey should be in a neck in neck fight over the everyday affordable Irish Whiskey sipper.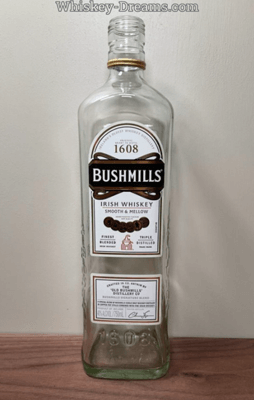 The nose on this Bushmills is very mild. There isn't much there to be honest.
The mouth feel is light, but the taste is really lacking. There is a hint of sweet honey but it is immediately overpowered with alcohol and wood char. I understand that this is a mix of malt that is diluted with column-distilled grain whiskey to reach the price point, but the end result is pretty rough. The aftertaste seems to stick to the back of my tongue. I kept finding myself swallowing again after I swallowed. As if I could somehow wash the aftertaste out.
I was expecting this Bushmills to be very close to Jameson. Sadly the end results are not really comparable. Regular old Jameson is a much smoother offering and for the extra dollar it usually runs by me, it is well worth it.
Bushmills has a wood char burn and a slight aftertaste on the back of my tongue that I don't find appealing. My honest advice is to spend a little more, or buy this to make mixed drinks. Bushmills eared a a 50/100. Save it for mixers or put it on a lot of ice.
Color
Light yellow honey.
Proof
40.0% ABV
Pros
Available pretty much everywhere.
Good if you like to pour some whiskey in your coffee or make other mixed drinks.
Cons
Not as refined as some options which are just a few dollars more.
Leaves an odd taste on the back of the tongue.