Tullamore D.E.W. is named after Daniel E. Williams. Williams was the distillery's general manager, and is credited with crafting the brands distinctive flavor profile and characteristics. Mr. Williams sadly passed in 2007. I however lift a glass in appreciation every time I crack a bottle of Tullamore.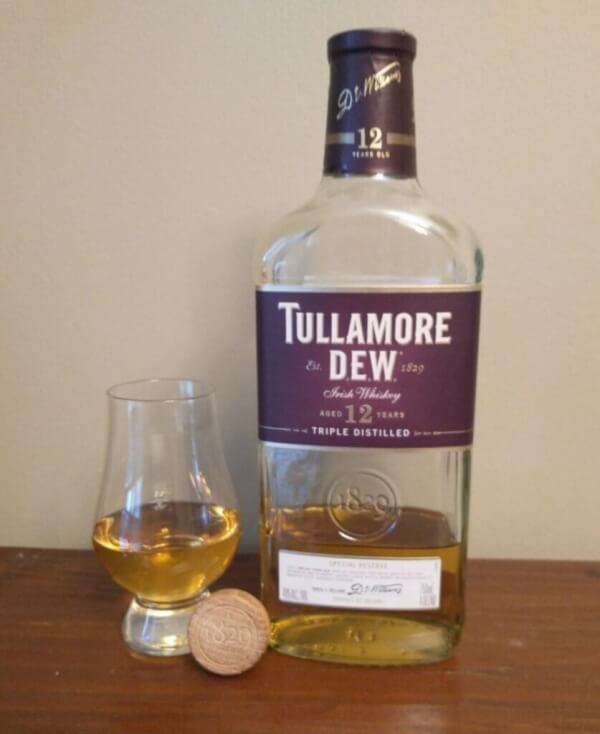 Tullamore D.E.W is a blended whiskey, created by combining  pot still, malt, and grain whiskey.
The Nose
The moment I started to poor a dram into a Glencairn Glass I was hit with lovely notes. The nose is floral, sweet, and quite nice. I could spend all day appreciating the carefully created balance.
The Palate
The front of my tongue is awash with the sweetness and floral notes I love from the nose. I wish I could hold that initial touch for longer. As the whiskey moves to the mid tongue we get spice that quickly turns to wood char. That spice and wood char is nice, but it tends to overpower the sweetness on the finish. The aftertaste lingers, overpowering the sweetness and the softness of the initial sip. Don't get me wrong. I really enjoy this dram. I just wish the finish was slightly more between the front of the tongue sweetness and the spice and char on the back of the tongue and swallow.
The Score – Tullamore D.E.W Irish Whiskey 12 Year
This Tullamore D.E.W 12 Year scores 73/100, making it Sip Worthy. What cost it some points? It was the shift between the initial notes to the finish. I really enjoy Tullamore D.E.W 12 Year and pick up a bottle whenever I see it below $45. I just wish that transition from start to the long finish was a tad bit smoother. My solution to that is to just have a few more glasses. Oddly enough that transition doesn't bother me after three or four drams. Go figure.
Color
Light yellow and straw.
Proof
40.0% ABV | 80 Proof
Pros:
If you can find it around $40, that's a buy.
Lovely, sweet floral nose.
Smooth and easily sipped.
Sweet, malty notes that swirl with spice.
Long spicy finish that lingers long after the swallow.
Readily available.
Cons:
This cost me $55 locally, which is too much for this bottle.
The sweet notes are quickly overpowered by the spice and oak.
The initial swallow is sweet but the aftertaste quickly wipes that out with spice and wood char.