I prefer my bourbon on the rocks, as I find that a little ice helps open up the whiskey. This is how I tried Knob Creek Small Batch to begin with, and quite honestly, I found it not to my taste.
What do I do with bottles of whiskey I don't really enjoy? I find that making Manhattan's with them makes the whiskey much more palatable. For whiskey I don't like on the rocks I use the classic Manhattan recipe:
Two ounces of whiskey
One ounce of sweet vermouth
I user a Shaker and get the cocktail nice and cold before pouring it into my trusty YETI Rambler 10 oz Lowball. This 10 oz Rambler is perfect for ice cold cocktails. A martini glass looks cool, but this Rambler won't sweat or leave a condensation ring. Because of its double walled design, it will also keep the warm from your hand from warming up that previous cocktail. This means the last sip will be as cold as the first.
Did the prep work pay off? Was a Knob Creek Small Batch Manhattan good?
Yes, but not jump up and down yes. The vermouth really helped round out the rough edges I didn't like in Knob Creek Small Batch straight or on ice. As a Manhattan, this whiskey gained more body and lost a lot of those rough edges. For me it earned a 69/100, putting it in the "If I Had Limited Choices" category. The Vermouth really turns the burnt sugar into something smoother, but not enough that I'd choose it over something else if I had a choice.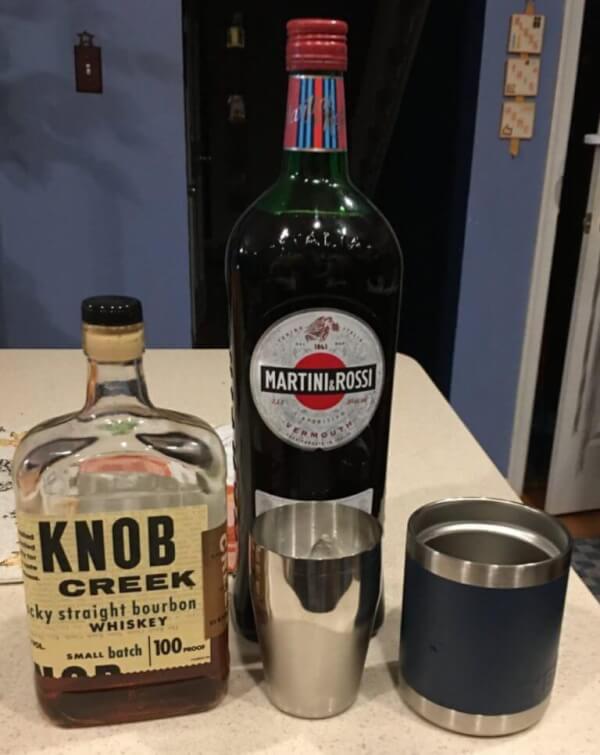 Pros
Turns the burnt taste of this bourbon when straight into something softer and drinkable.
Cons:
The sugar in the Vermouth adds to the flavor, but if your watching your sugar like I am, you have to be careful not to have too many Manhattans.