One of my sons lives a few miles from Cinder Bar and pre pandemic we would meet there for dinner and drinks on Friday nights. Cinder Bar has excellent pizza, the most amazing Deviled Eggs of any restaurant I've ever been to. I know its a simple dish, but simple dishes done well is sometimes the hardest thing.

My family loves the pizza, but my favorite meal is the Short Rib Cheesesteak.

The meat is just mouth watering. Juicy and full of flavor that is just rich and decadent. The fontina cheese, aioli, and caramelized onions just combine into the most amazing bite – every bite. The sandwich is rich. Its not huge, but somehow it fills me up more than sandwiches twice its size.
What I'm trying to say is that the food is really good.
So what do I normally drink with my meal? A Manhattan of course.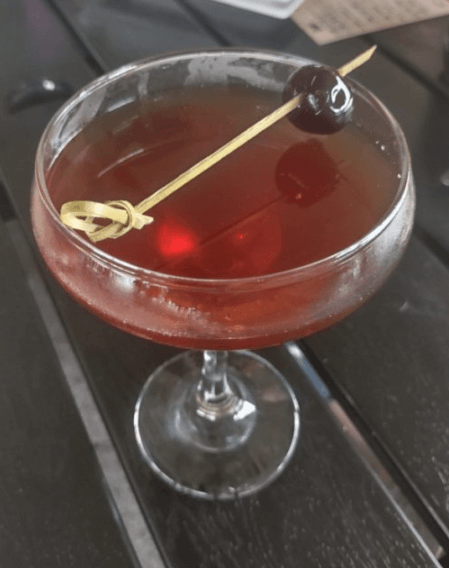 While my Basil Hayden's Manhattan was amazing, its just a fraction of what's available at Cinder Bar. This is a real Whiskey Drinker's restaurant. The Whiskey Menu is so large it takes up multiple pages on the menu.
Cinder Bar has a great selection of Irish whiskeys.
I can't even get a screen capture of the full Whiskey Menu because its several pages long. But you can view it here. There are six pages of whiskey to choose from.
When it comes to having a great selection of Whiskeys and amazing food, you can't go wrong with Cinder Bar.
Cinder Bar is scoring 96/100, putting near the very top of places I Will Go Back to. Like most things in life you pay for quality, and Cinder Bar is not cheap if you have a few drinks, appetizers, and everyone eats an entrée.
Is it worth it? Yes it is. I have yet to have a bad meal here.
Place
Location
Score
Price Scale
Drink
Cinder Bar
Clarksboro, NJ
96
High Cost
Manhattan
Saltgrass Steakhouse
Orlando, FL
91
Moderate Cost
Manhattan
The Irish Whisper
National Harbor, MD
90
High Cost
Irish Whiskey
McCormick & Schmick's Seafood & Steaks
National Harbor, MD
80
High Cost
Manhattan
The Dead Rabbit
New York, NY
75
High Cost
Multiple
Iron Hill Brewery
Wilmington, DE
71
High Cost
Kentucky Connection
Cadillac Ranch
National Harbor, MD
70
Moderate Cost
Multiple
Harry's Savoy Grill
Wilmington, DE
67
High Cost
Manhattan
Boulevardier
Ted's Montana Grill
Newark, DE
66
Moderate Cost
Newly Fashioned
Creekside Inn
Woodstown, NJ
65
Low to Moderate
Manhattan
Alewife
Richmond, VA
63
High Cost
Manhattan
roanoke
Chicago, IL
55
High Cost
Black Manhattan
Blue Line Lounge & Bar
Chicago, IL
53
Low Cost
Manhattan
Da Andrea
New York, NY
50
High Cost
Manhattan
Negroni
Iguana Cafe
Chicago, IL
45
Moderate Cost
Manhattan
The Greene Turtle
Newark, DE
40
Moderate Cost
Manhattan
Restaurante Montserrat Manor
Punta Cana, DR
35
High Cost
Manhattan
Dave & Buster's
Deptford, NJ
30
Moderate Cost
Manhattan
Cock'n Bull
Lahaska, PA
26
High Cost
Manhattan
Old Fashioned
The Brass Tap
National Harbor, MD
25
Moderate Cost
Manhattan
Carrol's Creek Cafe
Annapolis, MD
21
High Cost
Manhattan
Big Fish Grill
Wilmington, DE
10
High Cost
Manhattan
The Legend
New Castle, DE
5
Low Cost
Manhattan
TGI Fridays
New Castle, DE
1
Moderate Cost
Manhattan

Cost Scale
Up to $30 per person – Low Cost
$31 to $50 per person – Moderate Cost
$51 and above per person – High Cost