The Brass Tap Craft Beer Bar was the low point of our trip through the establishments in National Harbor. It's not that large, was packed, and the music was so loud you had to scream to talk to the person next to you. Ordering food and drink? Don't even try to talk to the server, you just have to point at stuff on the menu because no one is going to hear you.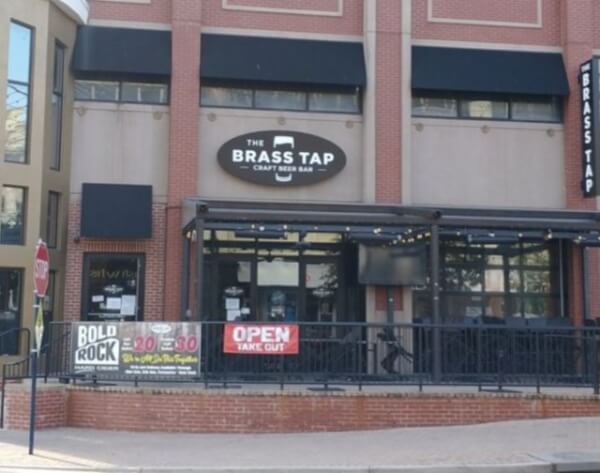 You can hear the music outside, which is probably what helps them pull people in, but someone needs to tell the owner they can put a speaker outside (or hide it in their sign) and then turn down the inside volume.
Could amazing drinks have saved our impression of The Brass Tap? Sure, it could have, if the drinks were decent.
My son and his friend got tap beer. No surprises, its beer.
I ordered a Basil Hayden's Manhattan. I'd had one at dinner so I had something to compare it too fresh in my memory. It is really hard to say they were remotely similar. What I got was anything but recognizable.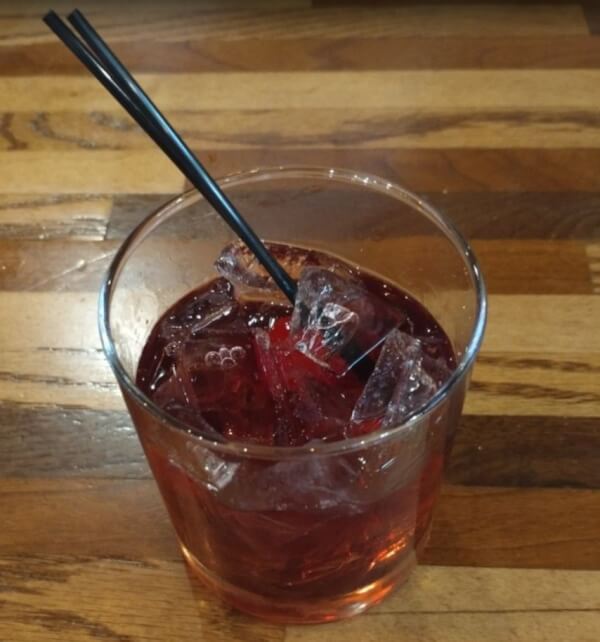 The color was really dark, and the flavor was anything but bourbon. It reminded me of when I'd fill bottles with water so my dad didn't know we were into his booze. The Manhattan was watery and bland, and honestly I have no idea what bourbon they used, because it definitely was not Basil Hayden's. Or, if it was, it was 9/10s water.
My wife ordered what should have been a safe choice. She went with a bottle of lite beer – which the bartender dropped while handing it over the bar to the server. The bottle hit the ground (I think there was a rubberized mat on the ground) but didn't break. A minute later the same beer was served to my wife, with about 50% of it foam. Unfortunately none of us took a picture of it.
We each drank our one drink and left half our appetizers uneaten as it was time to go. It was just too loud inside and the quality of the cocktails was Just Bad.
The Brass Tap scored a 25/100, making it Just Bad. This is not a place I'll be going back to.
Place
Location
Score
Price Scale
Drink
Cinder Bar
Clarksboro, NJ
96
High Cost
Manhattan
Saltgrass Steakhouse
Orlando, FL
91
Moderate Cost
Manhattan
The Irish Whisper
National Harbor, MD
90
High Cost
Irish Whiskey
McCormick & Schmick's Seafood & Steaks
National Harbor, MD
80
High Cost
Manhattan
The Dead Rabbit
New York, NY
75
High Cost
Multiple
Iron Hill Brewery
Wilmington, DE
71
High Cost
Kentucky Connection
Cadillac Ranch
National Harbor, MD
70
Moderate Cost
Multiple
Harry's Savoy Grill
Wilmington, DE
67
High Cost
Manhattan
Boulevardier
Ted's Montana Grill
Newark, DE
66
Moderate Cost
Newly Fashioned
Creekside Inn
Woodstown, NJ
65
Low to Moderate
Manhattan
Alewife
Richmond, VA
63
High Cost
Manhattan
roanoke
Chicago, IL
55
High Cost
Black Manhattan
Blue Line Lounge & Bar
Chicago, IL
53
Low Cost
Manhattan
Da Andrea
New York, NY
50
High Cost
Manhattan
Negroni
Iguana Cafe
Chicago, IL
45
Moderate Cost
Manhattan
The Greene Turtle
Newark, DE
40
Moderate Cost
Manhattan
Restaurante Montserrat Manor
Punta Cana, DR
35
High Cost
Manhattan
Dave & Buster's
Deptford, NJ
30
Moderate Cost
Manhattan
Cock'n Bull
Lahaska, PA
26
High Cost
Manhattan
Old Fashioned
The Brass Tap
National Harbor, MD
25
Moderate Cost
Manhattan
Carrol's Creek Cafe
Annapolis, MD
21
High Cost
Manhattan
Big Fish Grill
Wilmington, DE
10
High Cost
Manhattan
The Legend
New Castle, DE
5
Low Cost
Manhattan
TGI Fridays
New Castle, DE
1
Moderate Cost
Manhattan

Cost Scale
Up to $30 per person – Low Cost
$31 to $50 per person – Moderate Cost
$51 and above per person – High Cost