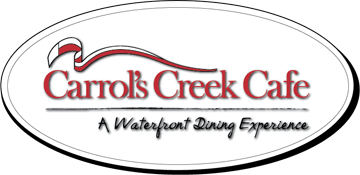 We spent a few nights in Annapolis Maryland to celebrate our 22nd wedding anniversary this past week. Parking is nearly impossible, so make sure your hotel/inn has parking or a valet service. Trust me that trying to find parking is a huge pain in the butt and not what you want to do be doing when you should be relaxing with a drink in your hand.
We asked a few locals where to go eat, and Carrol's Creek Cafe was mentioned several times, so off to dinner we went.
The first thing you are going to notice when looking through the menu is that there is a beer menu and a wine menu, but no Whiskey menu. The nerve.
For dinner my wife chose the Sautéed Chicken Breast and couldn't eat it. The first bite was fat and gristle and she spit it out. She said the chicken was rubbery and had an odd texture. The mushroom sauce she loved, and ended up using bread the sop that up. The chicken she couldn't eat. No, we did not send it back or ask for it to be taken off the bill.
My dinner on the other hand was amazing. I had a shrimp cocktail for starters and it was nicely seasoned with old bay. For my main course I had the Sautéed Jumbo Shrimp and pasta. The shrimp and pasta and lemon basil cream sauce was just heaven.
The main issue is that while my wife loves the beach, she can't eat seafood. Absolutely hates it. So she got chicken at a seafood restaurant and it was not edible. I on the other hand had shrimp and shrimp (yes I was craving shrimp) and it was to die for. Remember that if you are heading there for dinner with non seafood eaters.
When it came time to order my drink, I asked if they had Blanton's and the server wasn't sure. After confirming they didn't have it, I asked about Basil Hayden's, and while he didn't think they had it, after going to the bar, I got lucky with my second choice.
So I went with my old standby the Basil Hayden's Manhattan.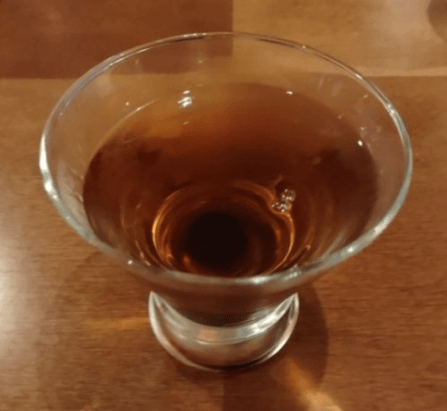 While my shrimp and pasta was amazing, my Basil Hayden's Manhattan was just bad. I ordered a second to see if maybe the first was just a bad pour but the second was just as bad. Whatever vermouth they were using was super acidic and didn't have any sweetness – which I did clarify on the second order to make sure the bartender knew I wanted it sweet, not dry. What came out was the exact same thing as the first.
While I'd go back to Carrol's Creek Cafe for seafood, it's not a stop I'll make with my wife as their non seafood options weren't great. It is also not a restaurant I'll be heading to when I want my Whiskey Fix. As a Whiskey Place, Carrol's Creek Cafe earned itself a 21/100.
My dinner was great, and our server was juggling a very busy seating section while making it look easy as he made sure everyone had what they wanted. My rating is driven by their lack of a Whiskey Menu and the horrible Manhattan, and when it comes to Whiskey, its a "Will Never Go Back" score.
Place
Location
Score
Price Scale
Drink
Cinder Bar
Clarksboro, NJ
96
High Cost
Manhattan
Saltgrass Steakhouse
Orlando, FL
91
Moderate Cost
Manhattan
The Irish Whisper
National Harbor, MD
90
High Cost
Irish Whiskey
McCormick & Schmick's Seafood & Steaks
National Harbor, MD
80
High Cost
Manhattan
The Dead Rabbit
New York, NY
75
High Cost
Multiple
Iron Hill Brewery
Wilmington, DE
71
High Cost
Kentucky Connection
Cadillac Ranch
National Harbor, MD
70
Moderate Cost
Multiple
Harry's Savoy Grill
Wilmington, DE
67
High Cost
Manhattan
Boulevardier
Ted's Montana Grill
Newark, DE
66
Moderate Cost
Newly Fashioned
Creekside Inn
Woodstown, NJ
65
Low to Moderate
Manhattan
Alewife
Richmond, VA
63
High Cost
Manhattan
roanoke
Chicago, IL
55
High Cost
Black Manhattan
Blue Line Lounge & Bar
Chicago, IL
53
Low Cost
Manhattan
Da Andrea
New York, NY
50
High Cost
Manhattan
Negroni
Iguana Cafe
Chicago, IL
45
Moderate Cost
Manhattan
The Greene Turtle
Newark, DE
40
Moderate Cost
Manhattan
Restaurante Montserrat Manor
Punta Cana, DR
35
High Cost
Manhattan
Dave & Buster's
Deptford, NJ
30
Moderate Cost
Manhattan
Cock'n Bull
Lahaska, PA
26
High Cost
Manhattan
Old Fashioned
The Brass Tap
National Harbor, MD
25
Moderate Cost
Manhattan
Carrol's Creek Cafe
Annapolis, MD
21
High Cost
Manhattan
Big Fish Grill
Wilmington, DE
10
High Cost
Manhattan
The Legend
New Castle, DE
5
Low Cost
Manhattan
TGI Fridays
New Castle, DE
1
Moderate Cost
Manhattan

Cost Scale
Up to $30 per person – Low Cost
$31 to $50 per person – Moderate Cost
$51 and above per person – High Cost