My wife and I used to hit this TGI Fridays on a monthly basis as we both worked nearby and would meet for lunch whenever we could.
My suggestion, get the Whiskey-Glazed Sesame Chicken Strips. These are the reason I go to TGI Fridays and they really do make it worth the visit.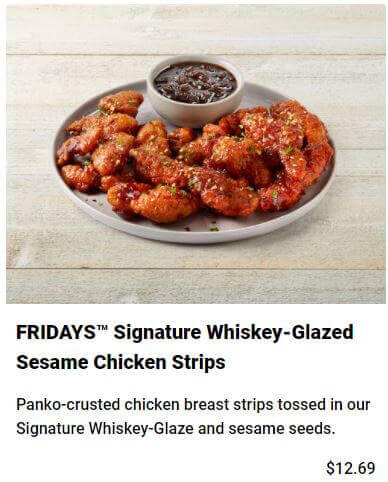 However, we are here to talk about whiskey, and TGI Fridays is just not a place to go if you are looking for whiskey selection. The cocktail menu is just very limited: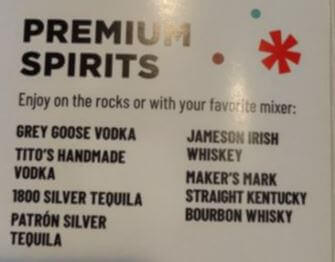 Our server was incredibly nice and helpful, but when I asked what the whiskey's they had I couldn't help but chuckle internally when she said they had Jameson, Maker's Mark, and Straight Kentucky, which is just the descriptor on their menu for Maker's.
So of course I went with a Maker's Mark Manhattan. As our waitress delivered the drink she apologized and said the bartender was new, so your experience with TGI Fridays may be different.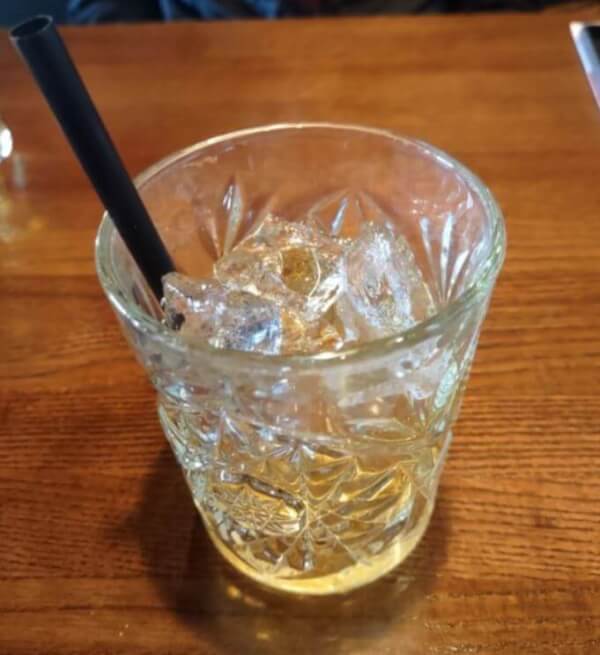 What I got was a watered down glass Maker's Mark. I don't think there was any vermouth in it and hardly any whiskey either.
I told the waitress no worries, everyone has to start somewhere, and drank the drink – but did not order another, and yes, I still left a nice tip.
The Whiskey-Glazed Sesame Chicken Strips are the reason to go to TGI Fridays for me, but when ranking it as a Whiskey Place I have to give it a 1/100, setting a new record low for "Will Never Go Back" Whiskey Places.
Next time I pass a TGI Fridays I'll go in and give them another try, but with such a limited whiskey menu, I can't really imagine it getting much better.
Place
Location
Score
Price Scale
Drink
Cinder Bar
Clarksboro, NJ
96
High Cost
Manhattan
Saltgrass Steakhouse
Orlando, FL
91
Moderate Cost
Manhattan
The Irish Whisper
National Harbor, MD
90
High Cost
Irish Whiskey
McCormick & Schmick's Seafood & Steaks
National Harbor, MD
80
High Cost
Manhattan
The Dead Rabbit
New York, NY
75
High Cost
Multiple
Iron Hill Brewery
Wilmington, DE
71
High Cost
Kentucky Connection
Cadillac Ranch
National Harbor, MD
70
Moderate Cost
Multiple
Harry's Savoy Grill
Wilmington, DE
67
High Cost
Manhattan
Boulevardier
Ted's Montana Grill
Newark, DE
66
Moderate Cost
Newly Fashioned
Creekside Inn
Woodstown, NJ
65
Low to Moderate
Manhattan
Alewife
Richmond, VA
63
High Cost
Manhattan
roanoke
Chicago, IL
55
High Cost
Black Manhattan
Blue Line Lounge & Bar
Chicago, IL
53
Low Cost
Manhattan
Da Andrea
New York, NY
50
High Cost
Manhattan
Negroni
Iguana Cafe
Chicago, IL
45
Moderate Cost
Manhattan
The Greene Turtle
Newark, DE
40
Moderate Cost
Manhattan
Restaurante Montserrat Manor
Punta Cana, DR
35
High Cost
Manhattan
Dave & Buster's
Deptford, NJ
30
Moderate Cost
Manhattan
Cock'n Bull
Lahaska, PA
26
High Cost
Manhattan
Old Fashioned
The Brass Tap
National Harbor, MD
25
Moderate Cost
Manhattan
Carrol's Creek Cafe
Annapolis, MD
21
High Cost
Manhattan
Big Fish Grill
Wilmington, DE
10
High Cost
Manhattan
The Legend
New Castle, DE
5
Low Cost
Manhattan
TGI Fridays
New Castle, DE
1
Moderate Cost
Manhattan

Cost Scale
Up to $30 per person – Low Cost
$31 to $50 per person – Moderate Cost
$51 and above per person – High Cost