The first night we were in National Harbor, MD we stopped by the front of The Irish Whisper and decided it looked a little dark inside and continued down the street. It was a huge mistake. We ended up in The Irish Whisper on our last night, and it was such a gem. It was dim inside, but each table had a light and the music was both good, and at a volume that was perfect to either chill out and listen to it, or have a normal conversation without having to scream at each other.
They had a massive menu of both Irish Whiskey and Scotch and the staff were amazing. It was really busy, and our server basically had the whole place except the actual bar, and she was always there when we wanted something.
I sampled the Irish Whiskey and enjoyed my first sip of Midleton, so now I have to buy a bottle!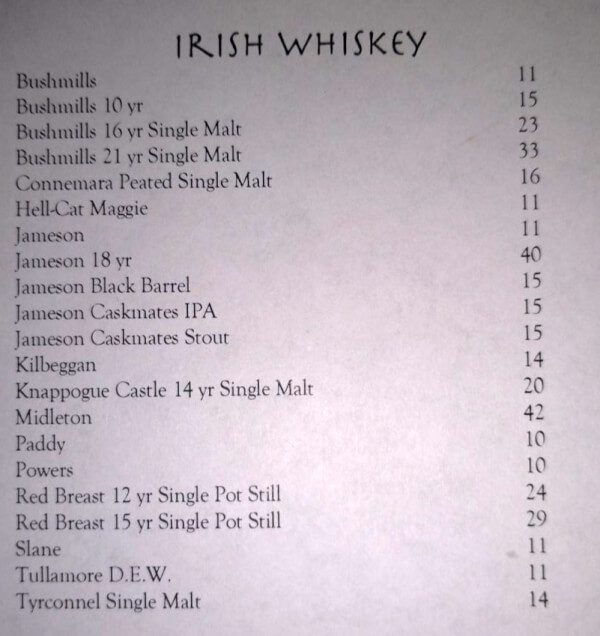 My son (adult) likes Scotch, so he tried a flight that included Dalmore 15, Highland Park 12 and Oban 14. He also had a dram of Glenfiddich 12, which he really enjoyed. He just graduated with a 4.0 for his second Bachelor's, so I got him a bottle of that after as a gift.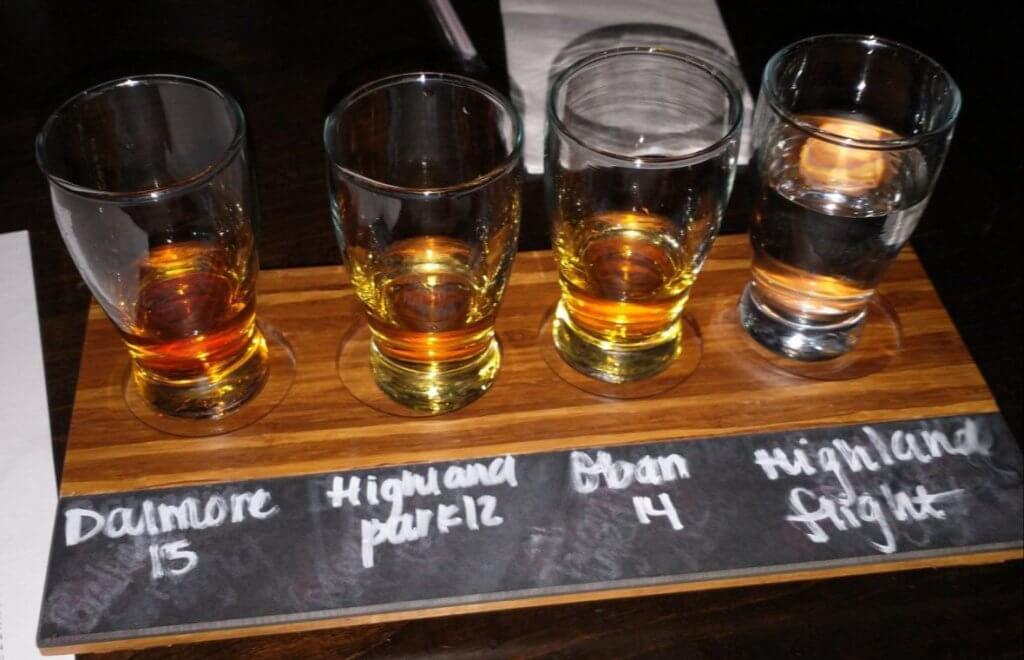 The Irish Whisper Scoring
Overall The Irish Whisper was a pure joy to sit and enjoy my family as well as good whiskey of every sort, earning it a 90/100. For me, this was a High Cost outing, but if your tastes (or self control) are better than mine, you can enjoy The Irish Whisper at any price point.
Place
Location
Score
Price Scale
Drink
Cinder Bar
Clarksboro, NJ
96
High Cost
Manhattan
Saltgrass Steakhouse
Orlando, FL
91
Moderate Cost
Manhattan
The Irish Whisper
National Harbor, MD
90
High Cost
Irish Whiskey
McCormick & Schmick's Seafood & Steaks
National Harbor, MD
80
High Cost
Manhattan
The Dead Rabbit
New York, NY
75
High Cost
Multiple
Iron Hill Brewery
Wilmington, DE
71
High Cost
Kentucky Connection
Cadillac Ranch
National Harbor, MD
70
Moderate Cost
Multiple
Harry's Savoy Grill
Wilmington, DE
67
High Cost
Manhattan
Boulevardier
Ted's Montana Grill
Newark, DE
66
Moderate Cost
Newly Fashioned
Creekside Inn
Woodstown, NJ
65
Low to Moderate
Manhattan
Alewife
Richmond, VA
63
High Cost
Manhattan
roanoke
Chicago, IL
55
High Cost
Black Manhattan
Blue Line Lounge & Bar
Chicago, IL
53
Low Cost
Manhattan
Da Andrea
New York, NY
50
High Cost
Manhattan
Negroni
Iguana Cafe
Chicago, IL
45
Moderate Cost
Manhattan
The Greene Turtle
Newark, DE
40
Moderate Cost
Manhattan
Restaurante Montserrat Manor
Punta Cana, DR
35
High Cost
Manhattan
Dave & Buster's
Deptford, NJ
30
Moderate Cost
Manhattan
Cock'n Bull
Lahaska, PA
26
High Cost
Manhattan
Old Fashioned
The Brass Tap
National Harbor, MD
25
Moderate Cost
Manhattan
Carrol's Creek Cafe
Annapolis, MD
21
High Cost
Manhattan
Big Fish Grill
Wilmington, DE
10
High Cost
Manhattan
The Legend
New Castle, DE
5
Low Cost
Manhattan
TGI Fridays
New Castle, DE
1
Moderate Cost
Manhattan

Cost Scale
Up to $30 per person – Low Cost
$31 to $50 per person – Moderate Cost
$51 and above per person – High Cost