We hit up the Iron Hill Brewery for lunch before seeing the new Batman movie yesterday. We were seated in one of the long wooden booths as we were a party of five, and the only reason I comment on it is that the table and seats were so tight as to be just barely comfortable. My son and his girlfriend are each like 100lbs, and they sat on on side while the bigger adults sat on the other. Even with the table against their chests, the adults just barely squeezed it. So if you are a bigger person, don't get a booth.
I had the Baja Fish Tacos, which are my favorite.

The fix is light and the coating nice and crispy, while the slaw and other toppings just blend so well together.
For my libation I selected the Kentucky Connection.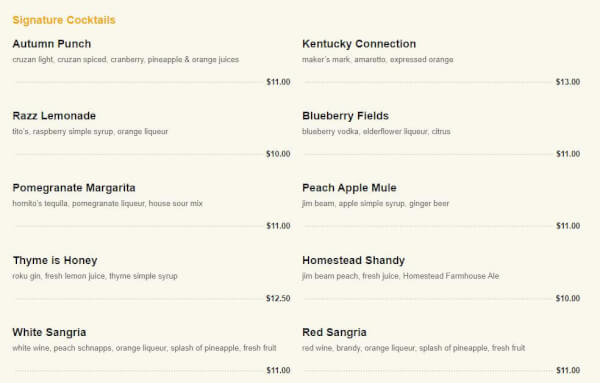 It is made from Maker's Mark, Amaretto, and expressed orange peel. Is it technically a Manhattan? I'm not sure, but I'm going to consider it a Manhattan for the purposes of this review.
The Kentucky Connection itself doesn't look like much. It is ice, the drink, and two mixing straws. It doesn't even have the orange peel as a garnish, so not overly visually appealing.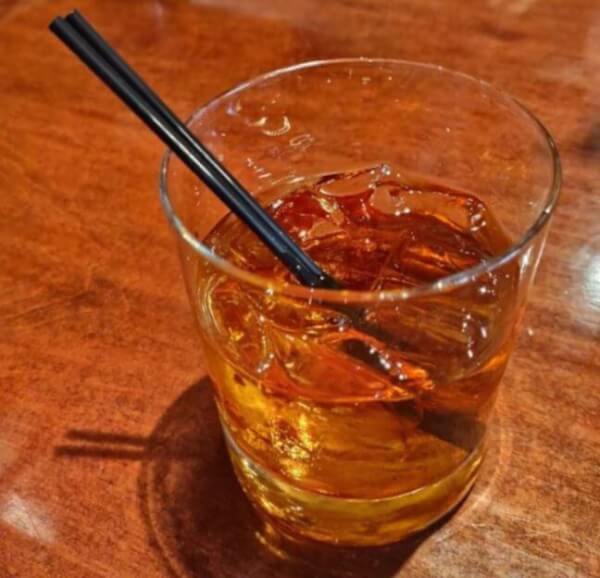 On the flip side the drink is tasty. I normally consider Maker's Mark to be an easy to get, but moderate quality bourbon, so I was skeptical about how this Kentucky Connection would fare and I was pleasantly surprised. It is a tad sweet, but it sips very smoothly and ends with a nice orange finish.
I might just have to get get me a bottle of Maker's Mark and some Amaretto to see if I can reproduce this.
Iron Hill Brewery Scoring
This Kentucky Connection scores an 71/100, making it very Sip Worthy. What cost Iron Hill some points?
Overall there is not a huge selection of bourbons at Iron Hill Brewery, which kind of makes sense as they focus on beer.
It can get pricey very quickly.
Some of the booths are oddly tight. Like my son and his girlfriend are under a hundred pounds each, and they could barely squeeze into the one edge of the booth. (Maybe it was just that booth?)
The roofing on the first floor is metal and it gets so loud you can't have a conversation if you are inside.
Overall, the Kentucky Connection is worth the trip, and I absolutely love their Baja Fish Tacos!
Place
Location
Score
Price Scale
Drink
Cinder Bar
Clarksboro, NJ
96
High Cost
Manhattan
Saltgrass Steakhouse
Orlando, FL
91
Moderate Cost
Manhattan
The Irish Whisper
National Harbor, MD
90
High Cost
Irish Whiskey
McCormick & Schmick's Seafood & Steaks
National Harbor, MD
80
High Cost
Manhattan
The Dead Rabbit
New York, NY
75
High Cost
Multiple
Iron Hill Brewery
Wilmington, DE
71
High Cost
Kentucky Connection
Cadillac Ranch
National Harbor, MD
70
Moderate Cost
Multiple
Harry's Savoy Grill
Wilmington, DE
67
High Cost
Manhattan
Boulevardier
Ted's Montana Grill
Newark, DE
66
Moderate Cost
Newly Fashioned
Creekside Inn
Woodstown, NJ
65
Low to Moderate
Manhattan
Alewife
Richmond, VA
63
High Cost
Manhattan
roanoke
Chicago, IL
55
High Cost
Black Manhattan
Blue Line Lounge & Bar
Chicago, IL
53
Low Cost
Manhattan
Da Andrea
New York, NY
50
High Cost
Manhattan
Negroni
Iguana Cafe
Chicago, IL
45
Moderate Cost
Manhattan
The Greene Turtle
Newark, DE
40
Moderate Cost
Manhattan
Restaurante Montserrat Manor
Punta Cana, DR
35
High Cost
Manhattan
Dave & Buster's
Deptford, NJ
30
Moderate Cost
Manhattan
Cock'n Bull
Lahaska, PA
26
High Cost
Manhattan
Old Fashioned
The Brass Tap
National Harbor, MD
25
Moderate Cost
Manhattan
Carrol's Creek Cafe
Annapolis, MD
21
High Cost
Manhattan
Big Fish Grill
Wilmington, DE
10
High Cost
Manhattan
The Legend
New Castle, DE
5
Low Cost
Manhattan
TGI Fridays
New Castle, DE
1
Moderate Cost
Manhattan

Cost Scale
Up to $30 per person – Low Cost
$31 to $50 per person – Moderate Cost
$51 and above per person – High Cost