According to their website, Blade and Bow Kentucky Straight Bourbon Whiskey uses a unique Solera System aging process to make their whiskey. What is the Solera Aging Process?
It kinds looks like a pyramid. If you watch the little video they provide you can see they basically created a named process for blending younger and older casks before they draw off the final product to be bottled.
So what does the end product of this pyramid process smell and taste like?
The nose is light charred oak, sweet vanilla and alcohol. None of the notes are particularly strong, they all just kind of sit there.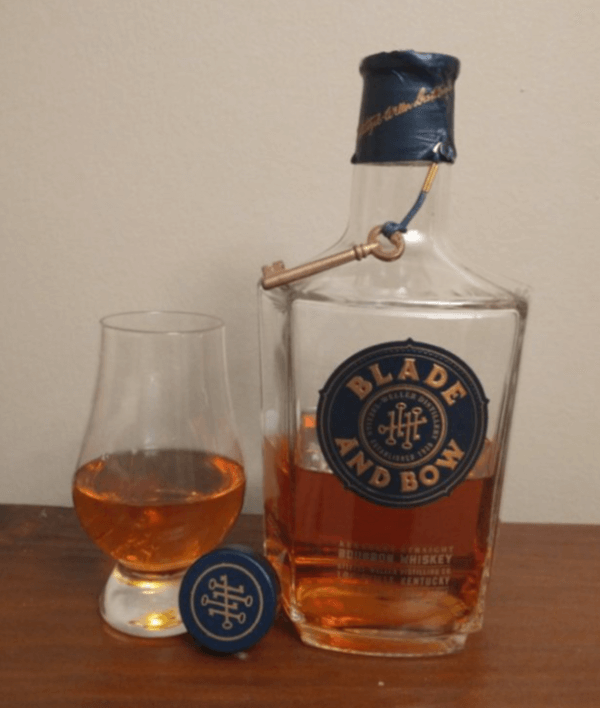 The first impression on the sip is vanilla and sweet until the swallow, which is dry oak and char as it goes down your throat. That char may be a shock for some. The front of your tongue picks up the sweet vanilla and when it hits the back of the throat it is raw and oaky and very strong compared to the opening.
There is an interesting duality on the swallow of this whiskey. It is a little dry from the time in the oak barrels but it is also very, and I'm struggling for the right word here, watery? There isn't any real mouth feel to this whisky, it is just watery with no substance. I feel like something with this much oak should have more oil, something more substantial?
The stark difference between the soft sweet opening and the hardness on the swallow really cost this blended whiskey points. Blade and Bow scored a 48/100, meaning this whiskey is destined for Mixed Drinks Only.
Color
Light to medium copper.
Proof
45.5% ABV
Pros
Gold Medal winner at the 2015 San Francisco World Spirits Competition.
The bottle is very cool. It feels like something the Great Gatsby would have poured alcohol from.
Cons
For me, the $50 price point (where I am locally) leaves me with better options.
Watery mouth feel.
Punch of char and roughness on the swallow that is out of sync with the sweet, soft, vanilla opening notes.
Too expensive to be in the Mixed Drinks Only range.