We gave out kids a trip to Punta Cana as their holiday gift instead of buying them a bunch of gifts that they may not really want or need. We are getting older and its harder to actually spend quality time with them because they all have their lives. On our last night in the Dominican Republic we went to the Montserrat Manor for a nice dinner. My idea was to cap off the all inclusive fair with a final night Upscale Dinner.
In the end it wasn't much better than the all inclusive food. The quality and the price of the meal just weren't in line with each other. When I asked for a whiskey menu they basically told me they had what I would consider local bar quality whiskey, so I went with my standard Manhattan.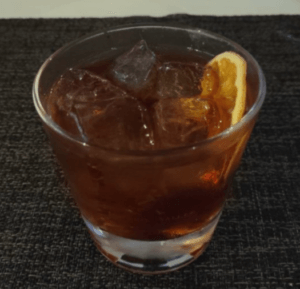 How was it?
Honestly, I've had better at Applebee's. What was it made with? The waiter told me the house bourbon, so I have no idea.
Given how expensive the food was, the poor quality whiskey selection, and even worse Manhattan, I've got to give Montserrat Manor a 35/100, putting it just barely into the If I Had Limited Choices territory. If I didn't have anywhere else to go, I'd probably go back. I was really disappointed in the Manhattan, and sure, I should have ordered a Rum drink, but by the last day I'd drank so much Rum I just wanted a sip of whiskey for God's sake.
Place
Location
Score
Price Scale
Drink
Cinder Bar
Clarksboro, NJ
96
High Cost
Manhattan
Saltgrass Steakhouse
Orlando, FL
91
Moderate Cost
Manhattan
The Irish Whisper
National Harbor, MD
90
High Cost
Irish Whiskey
McCormick & Schmick's Seafood & Steaks
National Harbor, MD
80
High Cost
Manhattan
The Dead Rabbit
New York, NY
75
High Cost
Multiple
Iron Hill Brewery
Wilmington, DE
71
High Cost
Kentucky Connection
Cadillac Ranch
National Harbor, MD
70
Moderate Cost
Multiple
Harry's Savoy Grill
Wilmington, DE
67
High Cost
Manhattan
Boulevardier
Ted's Montana Grill
Newark, DE
66
Moderate Cost
Newly Fashioned
Creekside Inn
Woodstown, NJ
65
Low to Moderate
Manhattan
Alewife
Richmond, VA
63
High Cost
Manhattan
roanoke
Chicago, IL
55
High Cost
Black Manhattan
Blue Line Lounge & Bar
Chicago, IL
53
Low Cost
Manhattan
Da Andrea
New York, NY
50
High Cost
Manhattan
Negroni
Iguana Cafe
Chicago, IL
45
Moderate Cost
Manhattan
The Greene Turtle
Newark, DE
40
Moderate Cost
Manhattan
Restaurante Montserrat Manor
Punta Cana, DR
35
High Cost
Manhattan
Dave & Buster's
Deptford, NJ
30
Moderate Cost
Manhattan
Cock'n Bull
Lahaska, PA
26
High Cost
Manhattan
Old Fashioned
The Brass Tap
National Harbor, MD
25
Moderate Cost
Manhattan
Carrol's Creek Cafe
Annapolis, MD
21
High Cost
Manhattan
Big Fish Grill
Wilmington, DE
10
High Cost
Manhattan
The Legend
New Castle, DE
5
Low Cost
Manhattan
TGI Fridays
New Castle, DE
1
Moderate Cost
Manhattan

Cost Scale
Up to $30 per person – Low Cost
$31 to $50 per person – Moderate Cost
$51 and above per person – High Cost