The main reason I wanted to hit The Greene Turtle was I love a good fish taco and they have Spicy Baja Fish Tacos on the menu. My wife had the Spicey Chicken Sandwich.
On the food side we both found the food to be over spiced. The siracha in the fish tacos was so strong it just over powered all the other flavors. My wife ended up scraping some of the sauce off her chicken because it was the same. Maybe we were just there on a bad day for the kitchen staff?
By the way, our waitress was really nice, and all the staff were very friendly.
So on to the Whiskey front. They have what I would consider standard "Bar" level whiskeys. Nothing special and not a huge selection.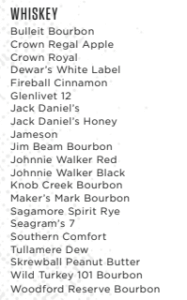 I went with the Bulleit Bourbon Manhattan as my drink of choice.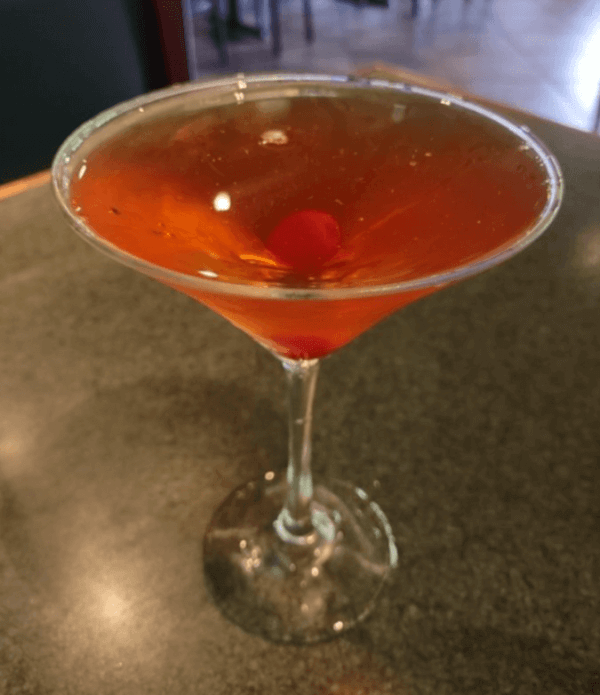 The Bulleit makes a nice dryish Manhattan that really lets the bourbon shine through. There are times I want a sweeter, richer Manhattan, and other times a nice dry finish is just perfect. This was one of those times. I will definitely bet getting a bottle of Bulleit to satisfy those dry Manhattan cravings.
When it comes to The Greene Turtle however I think I"ll give it a pass unless I don't have any other options. There is not a huge selection of Whiskey, and the food was way overpriced for the quality. If I go there again I think I'd stick to just an appetizer and a drink, as we found the food not to our liking, which is why The Greene Turtle is scoring a 40/100, putting it in "If I Had Limited Choices" territory.
Place
Location
Score
Price Scale
Drink
Cinder Bar
Clarksboro, NJ
96
High Cost
Manhattan
Saltgrass Steakhouse
Orlando, FL
91
Moderate Cost
Manhattan
The Irish Whisper
National Harbor, MD
90
High Cost
Irish Whiskey
McCormick & Schmick's Seafood & Steaks
National Harbor, MD
80
High Cost
Manhattan
The Dead Rabbit
New York, NY
75
High Cost
Multiple
Iron Hill Brewery
Wilmington, DE
71
High Cost
Kentucky Connection
Cadillac Ranch
National Harbor, MD
70
Moderate Cost
Multiple
Harry's Savoy Grill
Wilmington, DE
67
High Cost
Manhattan
Boulevardier
Ted's Montana Grill
Newark, DE
66
Moderate Cost
Newly Fashioned
Creekside Inn
Woodstown, NJ
65
Low to Moderate
Manhattan
Alewife
Richmond, VA
63
High Cost
Manhattan
roanoke
Chicago, IL
55
High Cost
Black Manhattan
Blue Line Lounge & Bar
Chicago, IL
53
Low Cost
Manhattan
Da Andrea
New York, NY
50
High Cost
Manhattan
Negroni
Iguana Cafe
Chicago, IL
45
Moderate Cost
Manhattan
The Greene Turtle
Newark, DE
40
Moderate Cost
Manhattan
Restaurante Montserrat Manor
Punta Cana, DR
35
High Cost
Manhattan
Dave & Buster's
Deptford, NJ
30
Moderate Cost
Manhattan
Cock'n Bull
Lahaska, PA
26
High Cost
Manhattan
Old Fashioned
The Brass Tap
National Harbor, MD
25
Moderate Cost
Manhattan
Carrol's Creek Cafe
Annapolis, MD
21
High Cost
Manhattan
Big Fish Grill
Wilmington, DE
10
High Cost
Manhattan
The Legend
New Castle, DE
5
Low Cost
Manhattan
TGI Fridays
New Castle, DE
1
Moderate Cost
Manhattan

Cost Scale
Up to $30 per person – Low Cost
$31 to $50 per person – Moderate Cost
$51 and above per person – High Cost