My whiskey journey started late in life. It started with Jack and then took off when I discovered Bourbon. From there I discovered a love for Irish Whiskey. One of my friends loves Scotch, and keeps telling me I'm missing out. I try to explain I don't like liquid smoke, but it doesn't seem to sink in.
To try and convince me, he sent me this bottle of The Balvenie 14 Years Caribbean Cask, saying the rum casks impart a sweetness that he thinks I would like.
To my friend, thank you for the Scotch. It was a good experience, but it reminded me that I don't like smoke. To his credit, there was a split second where I thought I'd found a Scotch I liked. The Balvenie 14 Years Caribbean Cask starts with a complex mix of sweet spices, but as soon as this dark copper liquid hit my mid tongue it turned to a strong, overpowering smoke. By the swallow I was grimacing, not sure if I was licking a camp fire.
Please don't send me hate mail. I don't like Scotch!!!! I'm sure if you like Scotch this is a fine offering, but for me this is a 2/100, and the 2 points are because it was a gift and I felt like it was mean to give it a 0. To my buddy, thank you for trying to expand my palate. At least when he comes over he now has a bottle of Scotch to drink.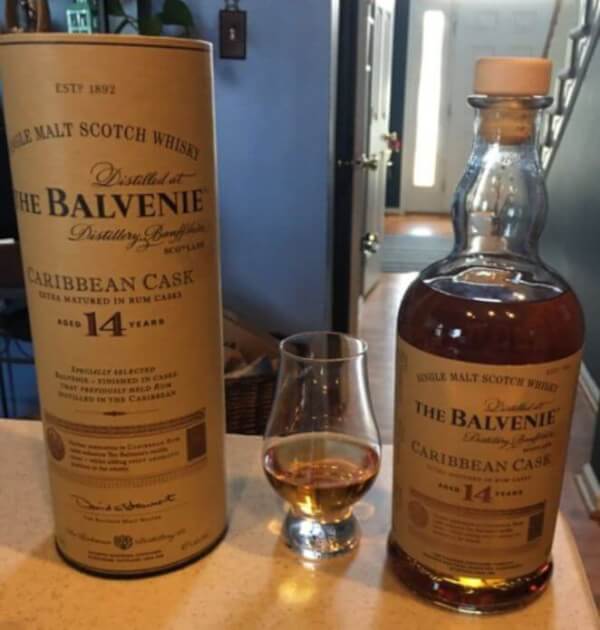 Color
Dark copper.
Proof
43.0% ABV
Pros
I have Scotch in my liquor cabinet for my friends now.
I was brave enough to try it.
Cons
Made me feel like I was licking a campfire or ashtray. I just don't enjoy smoke in my whiskey.
At $100 bucks a bottle, this is an expensive sipper even if you love Scotch.