Teeling Pot Still Irish Whiskey is 50% malted and 50% unmalted barley that has been triple distilled and matured in American Virgin Oak, Bourbon casks, and Sherry casks. It is said to be created using the Dublin method, but I can't find a lot of detail on what that actually means.
So no let's get to the important part – enjoying it.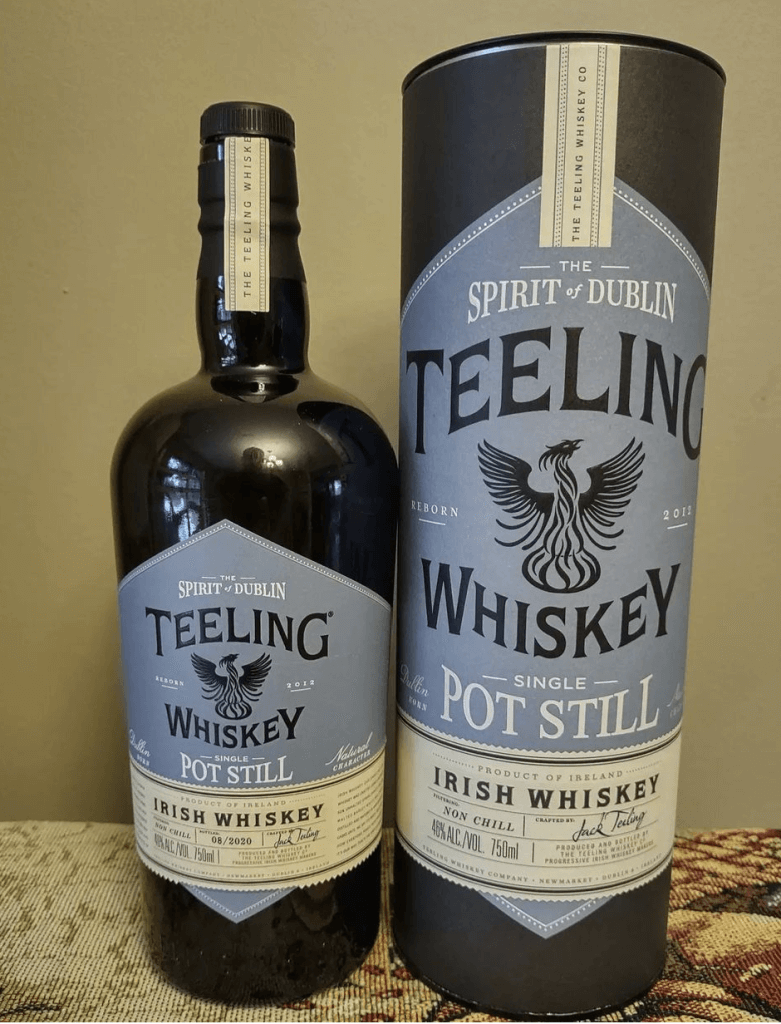 The Nose
The nose is a mix of cereal with hints of cut flowers.
The Palate
This Teeling Pot Still Irish Whiskey has a nice light golden straw color.
The mouth feel is clean, but as soon as the whiskey gets to my mid tongue it is all jangly and rough edged. There is a touch of leather and then the finish just takes those rough edges and pushes it to full throttle.
The Score – Teeling Pot Still Irish Whiskey
Is it drinkable? Yes, and it scored a 67/100, making it just barely into the Sip Worthy category – but I am grading it harder than I might have otherwise because it was $70 bucks, which is a lot of money. At the $70 price point I expect smooth, butter cookies from my Irish whiskey offerings.
If you want to try my all time favorite Irish Whiskey grab yourself a bottle of Red Breast Cask Strength. It is only a few bucks more and worth every penny.
Color
Light golden brown.
Proof
40.0% ABV
Pros:
I'm always excited to try Irish Whiskey I haven't had before.
Pleasant nose that hints of cereal and cut flowers.
Cons:
Way too expensive at $70.
Rough edges on the mid tongue and the finish.
The nose is the best part.