Tito's Vodka blew up a few years ago but I'd never had it. At least until one of my older boys asked me to get Vodka and sugar free Ginger Beer to make some Moscow Mules for a long delayed game night. (Before he moved out we would play board games once or twice a month with him and his girlfriend.)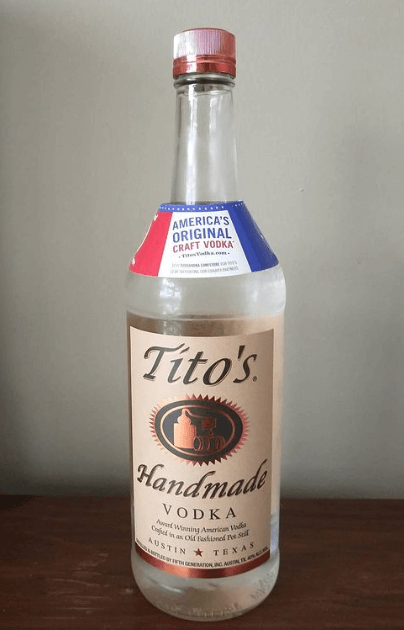 So I figured if I was going to make some mixers, I'd try this Titos Vodka and see how it sips.
The Nose
The nose is clean and simple alcohol. Yes, I did put it in a Glencairn Whisky Glass, but there isn't much to appreciate here. Vodka doesn't really have a nose.  
The Palate
The mouth feel is light and crisp, and benefits from its corn case as the first thing you notice is sweet. The finish is black pepper and alcohol heat. This is a fairly simple flavor profile, but I'd also describe it as clean.
The Score – Tito's Vodka
Titos Vodka scores a 69/100, making it perfect to drink in Mixers or On Ice. The simple taste profile costs it points, but it is crisp and clean enough to sip if your looking for something without a lot of depth – or if you just like that corn sweetness this Titos opens with.
Color
Clear as water.
Proof
40.0% ABV
Pros:
Crisp and clean.
Sweet opening and a nice crisp pepper finish.
Cons:
A little pricey at $30 bucks for what is essentially corn alcohol.
Fairly simple taste profile. There is not a lot of complexity here.