I have to say that I was pleasantly surprised when I took the first sip of Stillhouse Black Bourbon. My expectations weren't that high, as I only paid $22, so on top of being a very drinkable bourbon, it is quite affordable.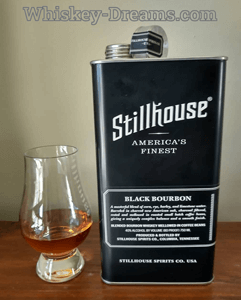 So how drinkable was it?
The nose hits you with a bit of alcohol, but it quickly mixes with wood char.
The palate starts in a very similar fashion. The alcohol burns then quickly turns to mild oak char that finishes with a touch of bitterness, astringency, and spice from the coffee ground and rye. Those coffee notes through me at first. Stillhouse Black Bourbon is "mellowed in coffee beans", but I didn't know that until after I'd taken the first few sips. Then it clicked, that bitterness and astringency is from the coffee.
Even though I'm giving Stillhouse Black Bourbon a 61, putting it in the Mixers or On Ice category, its already a "bottle" that I've bought more than once. It is perfect for mixers, and better yet, it is perfect for camping and hiking, where not having a glass bottle is a real bonus.
Color
Dark amber and brown.
Proof
40.0% ABV
Pros
Packaged in a metal tin, which makes it perfect for camping and hiking as well as parties where you don't want to take a glass bottle.
Great bang for the buck when it comes to value.
Cons
Some drinkers may not like the opening astringency.
If you like your whiskey neat, this might not be right for you. It really does need some ice or be put in a mixed drink to help smooth out the rough edges.
It is packaged in a squarish metal case, while being awesome, also means its hard to tell when you are almost out of Stillhouse.