Redbreast is my favorite all time whiskey distiller. Needless to say that as soon as I saw a new edition coming out I couldn't wait to get my hands on it.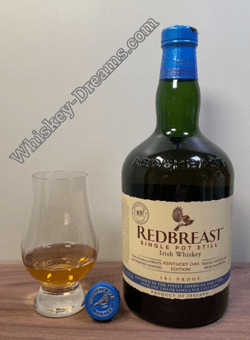 The nose on this Redbreast Kentucky Oak Edition is a little bit boozy but I think its too be expected with a 101 Proof statement. Mixed in with that is the nose that I've come to love from Redbreast. There are butter cookies, vanilla, and just a hint of oak.
The mouth feel of Redbreast Kentucky Oak Edition is crisp and clean. The tip of my tongue instantly fell in love. This is an old friend. That initial touch is just so sweet and full of all the things that makes Redbreast 12 the amazing bottle it is. It isn't until the Whiskey hit my mid tongue that I really started to appreciate the time spent in the Oak Barrels. That Oak and Spice really hit on the mid tongue and become almost, but not quite, too much on the finish.
Redbreast Kentucky Oak Edition scored a 80/100, making it Sip Worthy. I enjoyed it, but not enough to buy a few bottles for my Whiskey Safe. I will definitely buy another bottle when the prices come down, but its not so good that I feel the desire to keep a few bottles on hand to be ready for a long winter or my retirement.
Color
Golden Amber.
Proof
50.5% ABV
Pros
If you are a Redbreast fan this is a must try, even if its only once.
A great addition to the Redbreast family because sometimes you just want something a little different.
Perfect for the bourbon lover.
Cons
I picked up my bottle for $125 and I am already seeing it go for $199. Hopefully the supply keeps up with demand and the price falls back to something reasonable.
The oak was nice, but it also overpowered a lot of what I love about Redbreast 12.