I'm not sure what audience Agitator is going after, but apparently its the crazy drunks? Wait, how did I end up here? – Oh, never mind.

I guess I'm a rule breaker and a rabble rousers.
According to Agitator's web site, Agitator starts as a 21% rye whiskey that is aged for two years in new charred white oak before spending a few months in California Cabernet Sauvignon barrels.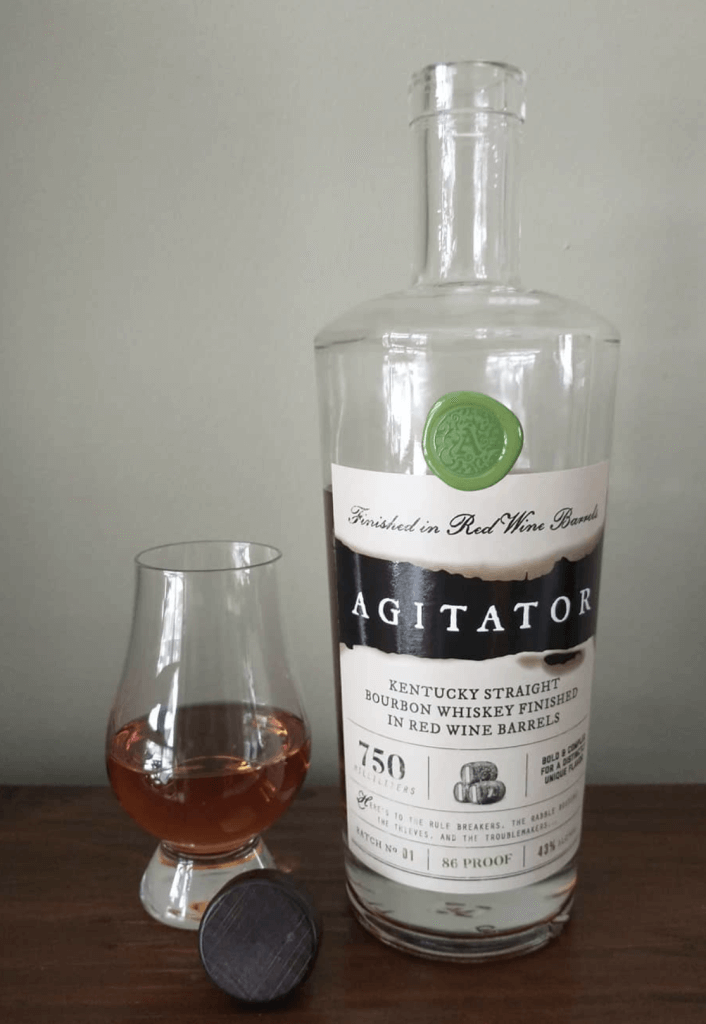 Let's see how that effort pays off.
The Nose
The first thing that hit me on the nose was the alcohol. Swirling the Glencairn Whisky Glass made my eyes water. This whiskey is only 86 proof, but the alcohol on the nose would have made me guess higher. It wasn't until I added some ice and let it open up that I could appreciate any of the more delicate notes. Once it opened up I could really smell the oak and vanilla. I was expecting to maybe smell something from the time spent in the Cabernet Sauvignon barrels, but the nose is all bourbon to me.
The Palate
The first sip matched the nose. Straight, the alcohol smacks you in the face. Opened up a bit with some ice or water and I can appreciate the oaky vanilla on the sip, and it does finish with a red wine dry, acidic mouth feel that hints at a bit of sweet fruit.
The Score – Agitator Kentucky Bourbon
I'm giving Agitator a 50/100, but because of its red wine roots, I am very curious to find out how it does in a Manhattan, as this is a Mixed Drinks Only bottle from here on out.
Color
The color of dehydrated urine after you've been punched in the kidney a few times.
Proof
43.0% ABV | 86 Proof
Pros:
If you like a dry finish, this might be right up your alley.
Opens up with a bit of ice or water.
Red wine finish.
Cons:
The straight whiskey has a very strong alcohol punch.
Is $30 bucks too much for this? The fact that I'm not sure makes it a con for me.